Special 'Sehri' and 'Iftari' program at Minhaj Tent Settlement (Akoara Khattak)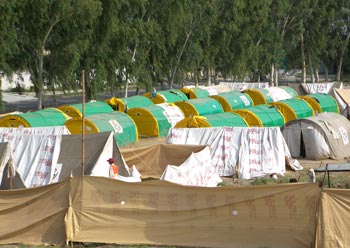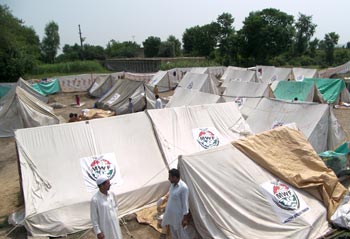 More than 12000 volunteers of Minhaj Welfare Foundation are busy in serving the flood victims of the country in the holy month of Ramadan. MWF launched its relief and rescue operations on the first day when the tragedy struck Pakistan. Shaykh-ul-Islam Dr Muhammad Tahir-ul-Qadri convened a special meeting of the Majlis-e-Shura of MQI and declared the cancellation of Itikaf City 2010. He ordered all workers and volunteers of MQI to dedicate themselves to the service of the flood victims and spend 12 days including the Eid Day with the flood affectees in their service. Though MWF has been arranging 'iftar and sehr' for the flood victims in 21 Minhaj Tent Settlements throughout the month of Ramadan. However, special 'sehr and iftar' arrangements were made on the 24th of Ramadan in the tent settlement in Akora Khattak. MWF director Iftikhar Shah Bokhari, Bilal Mustafvi, Altaf Shah, Liaqat Ali and others were also present on the occasion.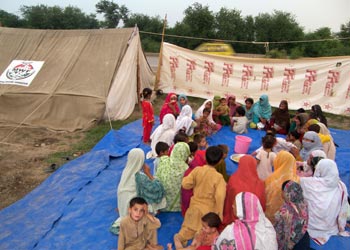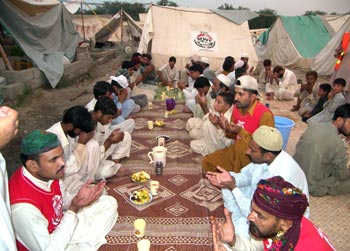 Talking to the flood victims, Altaf Shah, in-charge of the Tent Settlement, said that the volunteers and workers of MWF are busy in serving the flood affectees both day and night. Its leaders are also spending their time with them and transporting relief goods to the far-flung areas where even the government agencies have not yet reached. He assured the affectees of the complete support of Minhaj Welfare Foundation, saying that it would continue to extend its all-out help to them till their complete rehabilitation.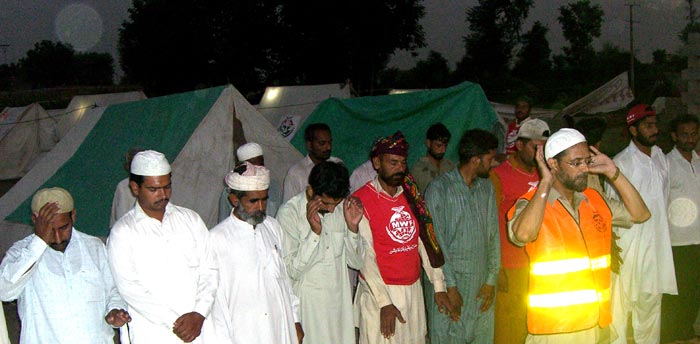 Addressing the participants, Iftikhar Shah Bokhari said that more than 12000 volunteers and leaders of MQI and MWF are working for relief and rehabilitation of the flood victims on the special instructions of Shaykh-ul-Islam Dr Muhammad Tahir-ul-Qadri. He said that we would leave no stone unturned to help our suffering brethren. He said that 21 tent settlements have been established where thousands of people are being provided with necessities of life. It is through patience and courage, he added, that we can come out of such crises. He said that Minhaj Welfare Foundation stood by its brothers and sisters of KP province during the time of earthquake and it would continue to support them in every way possible till their complete rehabilitation.