Ishq-e-Rasool (SAW) Conference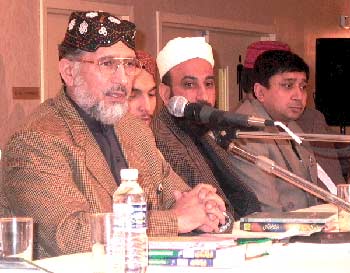 Ishq-e-Rasool (SAW) Conference was held on Sunday November 28, 2004 in the heart of Mississauga city in Canada. The conference hall was jam packed with the Ashqan-e-Rasool ( Lovers of the Holy Prophet SAW).
The guest speaker of the conference was His Eminence Shaikh-ul-Islam Dr. Muhammad Tahir ul Qadri, who delivered a spiritual lecture on the topic of Quran & Greatness of the Holy Prophet (SAW). During his lecture, he quoted the verses of Holy Quran and provided the references to the sayings of the Holy Prophet (SAW) in order to elaborate the status of our beloved Prophet Hazrat Muhammad Mustafa, (SAW). He emphasized the point that we should keep our faith clear about the status of the beloved Prophet (peace be upon him) and it is only the love and affection with utmost respect for the Holy Prophet (SAW), which will guarantee the acceptance of all our good deeds in this world and hereafter.
A number of delegates attend the conference from different cities of America and also from other cities of the Canada.