The Muslim Youth League UK London holds conference in the remembrance of Great Shaykh Abdul Qadir Gilani (R.A.)
Venue : MQI London
Organiser : Muslim Youth League (MYL UK) - London
By the Grace of Allah Almighty, the blessings of His Holy Prophet Muhammad (S.A.W.), and special spiritual benevolence of Shaykh-ul-Islam Dr Muhammad Tahir-ul-Qadri, the Muslim Youth League London held a conference in MQI London, in the remembrance of Shaykh Abdul Qadir Gilani.
The proceedings of the Conference went underway with the recitation of Holy Quran by Hafiz Asim Shabbir. He then recited a beautiful Manqabat.
This was followed by a spiritual melody " Mere Ghaus Piya Gillani", by a talented brother Mr Ahmed Raza. Sister Nur Adeela then presented the Nasheed "Kamli Waaley de Darbar di Gal Kariye, Ban jaye gal saadi, Sarkar di Gal Kariye." She really moved the audience into ecstatic delight with her performance charged with spiritual verve and mystic depth.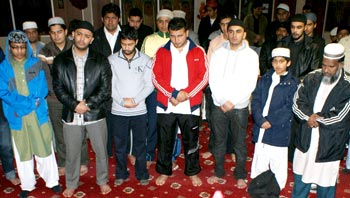 Brother Muttayab then spoke about some commonly known aspects of the life of Shaykh Abdul Qadir al-Jilani (RA). He said he was the greatest Islamic scholar of his time and his students rose to the status of renowned imams. Brother Muttayab also related the incident about Shaykh Abdul Qadir Gilani's childhood, when his mother had sewn into his jacket 40 Dinars. When he was attacked by thieves, he told them the truth that he had 40 Dinars in his jacket. They were so impressed by his honesty and truthfulness that they at once gave up their burglary, repented and became Muslims.
Brother Haseeb then recited the Manqabat "Meeran Waliyon ke Imam". His voice captured the audience. They joined in with him creating a glorious atmosphere. That created a rousing and lively environment charged with spiritual feelings and intuitional state of things. Brother Mutayyub then introduced the main speaker of the evening –Brother Sanaullah Sethi.
Brother Sanaullah began with reciting a couple of verses of Surah Fatiha. He explained the noble lineage of Shaykh Abdul Qadir Gilani (RA) and that he was a direct descendent of The Holy Prophet (SAW) in the 12th generation. He related some miraculous events of his childhood and told the audience that at his birth he was Hafiz of 15 Parahs of the Holy Qur'an, due to his mother's constant recitation of the Holy Qur'an.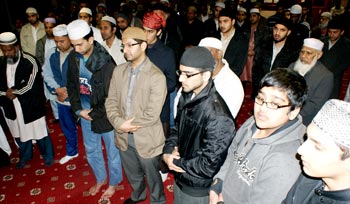 Shaykh Abdul Qadir Gilani (RA) also had the stamp of the footprint of the Holy Prophet (SAW). As he was born in the month of Ramadhan, he would actually fast all day, and not drink any milk until iftar time.He also told the audience that when Ghous-ul-Azam (RA) decided to leave Baghdad, he was sent a message from Allah (SWT) asking him not to leave. Ghous-ul-Azam (RA) felt that he did not know the Arabic language as well as the Arabs and, therefore, was not sufficiently qualified to deliver his lecture in Arabic and felt shy. Following this apprehension Ghous-ul-Azam (RA) saw the Holy Prophet (SAW) in his dream and was asked why he did not deliver his lecture. When the Holy Prophet (SAW) found out the reason, Holy Prophet (SAW) asked Ghous-ul-Azam (RA) to open his mouth and put his Blessed saliva into his mouth. Then Ghous-ul-Azam (RA) did not hesitate in giving his lectures to thousands of people at a time.
Brother Sanuallah finished his speech describing the special connection Minhaj-ul Quran has with Shaykh Abdul Qadir Gilani (RA). Shaykh-ul-Islam Dr Tahir-ul-Qadri, has special blessings of Huzoor Ghuth-ul-Azam, Shaykh Abdul Qadir Gilani (RA), and any person who is connected with Minhaj-ul Quran becomes a disciple and "Mureed" of Ghous-ul-Azam (RA).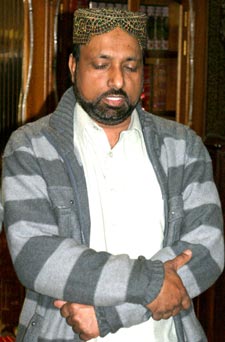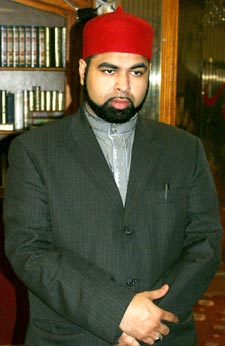 This was followed by a Dhikr session led by brother Umar Naveed. The whole congregation was filled with spirituality and a deep sense of connection with Allah (SWT) and His Beloved Messenger (blessings and peace be upon him).
There were stalls organized for selling books and CD's of Shaykh-ul-Islam Dr Tahir-ul-Qadri. All the participants were asked to complete a short questionnaire. Refreshments and food was served at the end.
They also announced that the next Youth Dhikir gathering would be held on 15 May 2010 at 7.30pm Insha Allah.
Report by Sister Nasra Raza