Singapore's Minister for Foreign Affairs calls on Dr Muhammad Tahir-ul-Qadri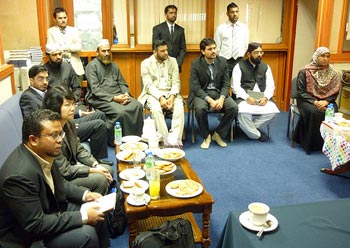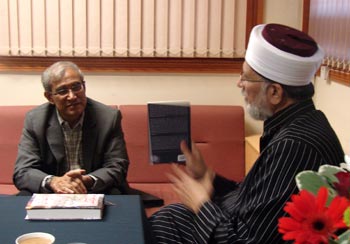 [Saturday, 26 June 2010]
LONDON: The senior minister for foreign affairs of Singapore, Mr Zain-ul-Abidin Rasheed, had a private meeting with Shaykh-ul-Islam Dr Muhammad Tahir-ul-Qadri at the Minhaj-ul-Quran International London office. Both leaders discussed issues of tackling extremism in light of the Fatwa on Terrorism, interfaith dialogue and integration.
The Minister praised Dr Tahir-ul-Qadri's efforts in curbing extremism and promoting integration and interfaith dialogue between different faiths and said that lessons should be learnt from his teachings. The Minister briefed how Singapore has been able to address this problem. Mr Zain-ul-Abidin asked how Dr Qadri would address the issues of interfaith and building bridges between different faiths. Dr Tahir-ul-Qadri said that "we must aim to find common grounds in our faiths and work together to foster relations. We invite Bishops of Christian faiths to our Minhaj-ul-Quran mosque and hold Christmas programs as a mark of solidarity, whereas it was for the first time in history that the Mawlid of Prophet Muhammad (SAW) was celebrated in a Church in Pakistan."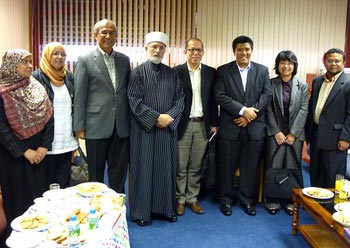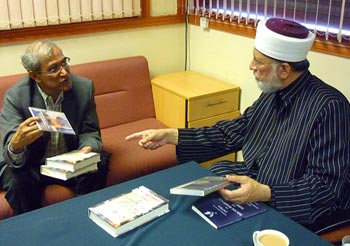 Mr Zain-ul-Abidin was very pleased with the efforts of Minhaj-ul-Quran International. He said that the work of Dr Tahir-ul-Qadri shows that he is a true leader of the Singapore. The Minister expressed his desire to meet Dr Tahir-ul-Qadri again to explore ways of further extending cooperation.
The meeting was attended by the wife of the minister, Deputy High Commissioner of Singapore High Commission in London, Religious Council of Singapore and senior Minhaj-ul-Quran UK officials Mr Dawood Mash'hadi, Mr Shahid Mursaleen, Mr Ishtiaq Ahmed and Shaykh Sadiq Qureshi.