Sahibzada Hassan Mohi-ud-Din Qadri addresses press conference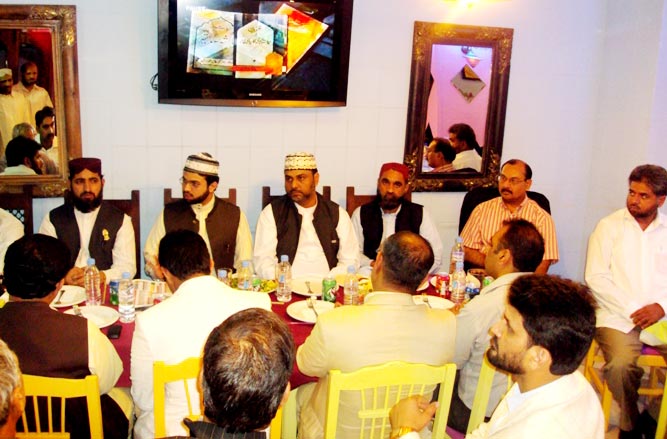 Al-Haaj Muhammad Shafique Awan, president of Majlis-e-Shura, hosted a reception in the honour of Sahibzada Hassan Mohi-ud-Din Qadri, president of MQI's Supreme Council and Sheikh Zahid Fayyaz, Deputy Secretary General in Athens on May 27, 2010, which was also attended by all executive members, and senior officials of MQI Greece, in addition to distinguished members of Pakistani community, social and political activists and the media members including Weekly Awaz, Des Perdes News, Khabernama, Express News, Ujala News and Pak Radio Urdu Service.
Addressing the press conference, Sahibzada Hassan Mohi-ud-Din Qadri said that he was on tour of Europe and it was meant to convey the message of peace. He said that MQI leadership of Shaykh-ul-Islam Dr Muhammad Tahir-ul-Qadri is working hard to build bridges and destroy walls between Muslims and non-Muslim communities and his visit was a link of the same chain. He said that there was a dire need to promote dialogue as a necessary tool to resolve our mutual differences. He condemned terrorism being committed in the name of Islam and said that Islam does not allow anyone to shed the blood of innocent people and violate human rights.
The reception was also attended by Javed Iqbal, president of MQI Greece, Muhammad Jamil Shah, Ghulam Murtaza Qadi, Muhammad Ramzan Qadri, Muhammad Hayat, Tajmal Hussain and others.