GM Malik, Deputy Secretary General MQI visits Foreign Office in Norway
Mr Muhammad Mustafa (GM Malik), Deputy Secretary General MQI, who was on his visit to Norway last month along with Mr Pervaiz Nisar (President MQI Norway) and Mr Atif Rauf (President MYL Norway), visited the foreign office in Norway, met Mr FM Alf Arne Ramslin (Asst Director General of South Asia) and discussed with him matters of bilateral and general interests, particularly in connection with Minhaj Reconciliation Council and its efforts towards Conflict Resolution, a field both the sides are deeply in to enhance collaboration.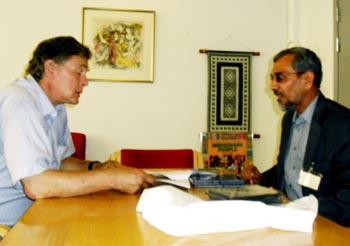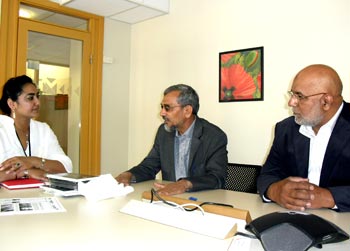 Mr Malik presented to Mr Ramsline the latest work of Shaykh-ul-Islam Dr Muhammad Tahir-ul-Qadri, 'Fatwa against Terrorism' and his lecture DVDs on 'Does islam teach Terrorism? And his talks to the peace conferences held in Oslo, Glasgow and other famous places around the world. He also presented to him the DVD containing the proceedings of the Conference on forced marriages. He especially highlighted the strenuous struggle Shaykh-ul-Islam has launched globally to attain to the goal of peace, dialogue, human rights, welfare and education under the banner of Minhaj-ul-Quran International. Mr Ramsline paid glowing tribute, at this occasion, to the marvelous endeavours Shaykh-ul-Islam is continuing with ever fresh zeal and enthusiasm.
After Norway, the Minhaj Reconciliation Council is also running it center at Kharyan, Pakistan, with the cooperation of Norwegian embassy. During his visit Mr GM Malik also met Perminder Kor Visal of the Directorate of Integration and Diversity and exchanged views on matters of mutual interests, forestalling the social evil of forced marriages in particular. They agreed to continue the struggle to rein in the practice and its growing trend with the dynamic struggle launched for the purpose.