German TV Channel ZDF organizes a Live Program for flood affected in Pakistan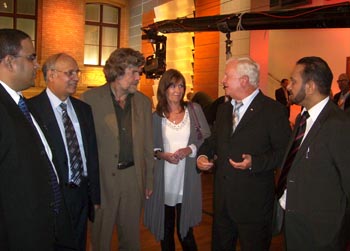 Hilfe für Pakistan (Help for Pakistan) was the Motto of this Program, which was organized and live transmitted on German TV 26.08.2010 at 20:15 Hours. The program was conducted by Peter Frey (Chief editor) and Mr. Markus Lanz. From the Pakistani community Minhaj-ul-Quran International Berlin was represented through Mr. Faiz Ahmed (President), Mr. Nadeem Shah (Sr. Vice President), Mr. Mohammad Irshad (General Secretary), Mrs. Naheed Imran (representing Minhaj Women League).
German Chancellor Ms Angela Merkel was the special participant in the telethon.
The Kanzlerin Angela Merkel praised the work of NGOs in Pakistan and assured the German people that the help will directly reach the flood affected people and encouraged the people to donate generously.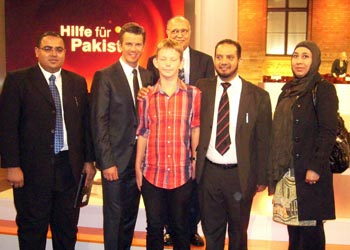 The other famous personalities, who participated this program, were Mr. Rainer Lang (Diakonie Katastrophenhilfe), Mr. Rupert Neudeck (Chairman Gruenehelme), Mr. Reinhold Messner (K2- Mountaineer), Mrs. Baerbel Dieckmann (Chairman Welthungerhilfe), Mr. Rudolf Seiters (Chairman German Red Cross), Mr. Peter Scholla Tour (Islam and Midlle East Expert), Mr. Peter Maffay (famous singer). All these personalities appealed to the people to donate generously to the flood affected people of Pakistan in their hour of need. They also assured the people that the affected people will get the help directly and at the spot.
Mr. Faiz Ahmed thanked the Kanzlerin Agela Merkel, ZDF TV, and German People for their generous help for the people of Pakistan. He also told the audience that Minhaj Welfare Foundation is already helping the people from the beginning of this catastrophe and we are also contributing our share in Berlin for this purpose. Mrs. Naheed Imran assured the people that Minhaj-ul-Quran International, through Mihaj Welfare Foundation, always distributes relief goods to the affected people directly at the spot. Her brother is also actively involved in relief activities. She said that we thank the ZDF TV for this special transmission. Mr. Shah told that he had a contact early today about flood situation in Pakistan, which is far worse than what many think. So we appeal to the German people to stand with the affected people of Pakistan.
At the end of the program, it was announced that an amount of 8 Million Euros has been donated and it can increase in the coming days as the account number for Help for Pakistan has already been announced.