MQI leader visits Vatican and conveys message of Shaykh-ul-Islam
Sohail Ahmad Raza, Director of Interfaith Relations and the central leader of Minhaj-ul-Quran International, visited the Vatican City Rome. His visit is a part of efforts aimed at forging unity between the Muslim and Christian communities. He called on the president of Pontifical Council for Inter-religious Dialogue Vatican. Cardinal Jean -Louis Tauran, Mons Chidi Dieans Isizo (vice president). Fr. Markus Solo, Bishop Otmer Kieazoand and Aghay Reza Mafthai of Irani embassy were also present.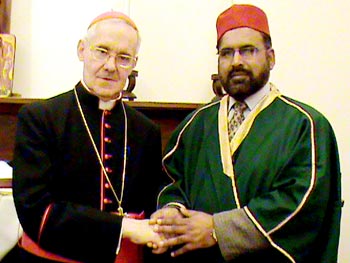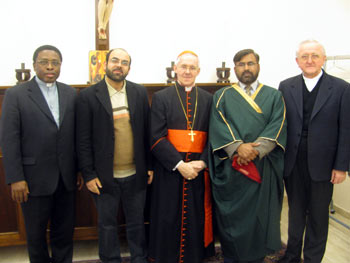 Talking to the Vatican leaders, Sohail Ahmad Raza highlighted commonalities between Islam and Christianity. He said that Christians and other minorities enjoy complete freedoms in Islam and these freedoms are constitutionally guaranteed in Pakistan. He told his hosts that Shaykh-ul-Islam Dr Muhammad Tahir-ul-Qadri has played the role of a bridge between the Muslims and the West. MQI, he added, believes in the full religious and social freedoms of the followers of all religions. Referring to the brutal murder of Mr. Shahbaz Bhatti, he said that the extremists and terrorists want to sow the seeds of suspicions and mistrust between the followers of both religions. They must not be allowed to succeed in their nefarious agendas. He said that the present situation called for greater engagement between the leaders of the Muslim and Christian communities. He briefed the Vatican leaders about the impact of historic Fatwa authored by Shaykh-ul-Islam Dr Muhammad Tahir-ul-Qadri. He also conveyed the message of Dr Muhammad Tahir-ul-Qadri to Pope Benedict XVI.