MQI UK representatives meet Archbishop of Canterbury Dr Rowan Williams in Lambeth Palace Westminster Abbey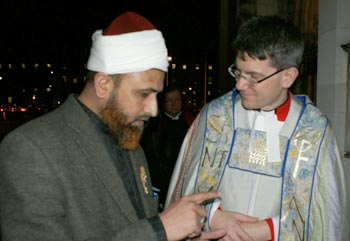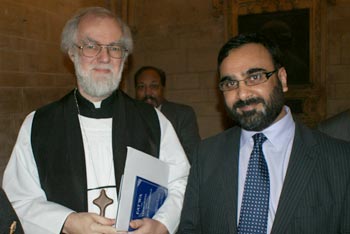 Interfaith harmony and interfaith dialogue has been the key factor for a peaceful society and Minhaj-ul-Quran International has always promoted interfaith harmony at an international level. The Lambeth Palace invited Minhaj-ul-Quran UK representatives for a visit to Lambeth Palace and Westminster Abbey on 17 March 2011 and the delegation included Shaykh Sadiq Qureshi al-Azhari, Minhaj Peace and Integration Council President Abu Adam Ash-Sheerazi, and MPIC Secretary, Ishtiaq Ahmed, Minhaj-ul-Quran UK Spokesman Shahid Mursaleen and other office bearers of Minhaj-ul-Quran, Youth League and Sisters League. The visit included showing around the Lambeth Palace and the explanation of its historic significance. Special interest was shown in the Crypt Chapel, dating back to the thirteenth century and the oldest structure in the building.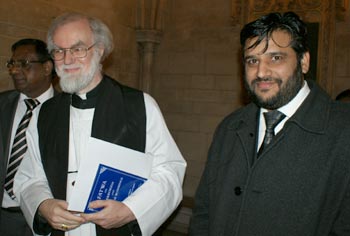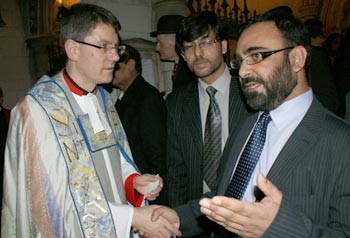 Reverend Rana Youab Khan who arranged the visit for Minhaj-ul-Quran UK and Bishop Mano Rumalshah, previously Bishop of Peshawar, led the delegation to the Westminster Abbey where they were given a privileged tour of the building which has served as the country's coronation church since 1066. The delegation was received and welcomed by Revd Jane Hedges, Canon of Westminster who planned a privileged tour and access to the Abbey for the delegation of Minhaj-ul-Quran. She briefed the delegation about the significance of the Westminster Abbey and led the delegation to the shrine chapel of Edward the Confessor, which is usually not allowed for public. The first abbey church was built by Edward the Confessor in 1065. The delegation was also taken to Henry VII's Chapel with its fan vaulted ceiling dating back to the early sixteenth century.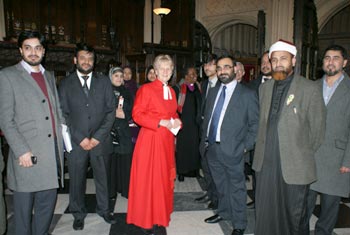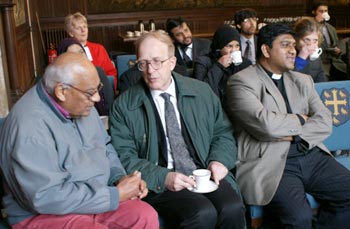 Later the delegation took part in a service held at St Largaret's Church in the memory of Shabbaz Bhatti (Federal Minister for Minorities in Pakistan) who was assassinated on 2 March 2011. The service also included the Alistair Burt MP, Parliamentary Under-Secretary of State at the Foreign & Commonwealth Office, Cannon of Westminster and Rector of St Margaret's Church Reverend Andrew Tremlett, Archbishop of Canterbury, Dr Rowan Williams, Reverend Declan Lang, Bishop of Clifton, representing the Archbishop of Westminster, accompanied by the Right Reverend Dr Alexander Malik, Bishop of Lahore. The High Commissioner for Pakistan Mr. Wajid Shamsul Hassan was also present. The Archbishop of Canterbury, Dr Rowan Williams said in prayer: "May the gift of your Spirit of truth and peace be poured out especially upon the people and leaders of Pakistan, so that fear may be overcome, prejudice and hatred be taken away, and trust restored." The delegation of Minhaj-ul-Quran UK met with various Bishops including Archbishop of Canterbury Dr Rowan Williams. Abu Adam Ash-Sheerazi and Ishtiaq Ahmed presented the Dr Muhammad Tahir-ul-Qadri's Fatwa on Terrorism & Suicide Bombings to the Archbishop of Canterbury.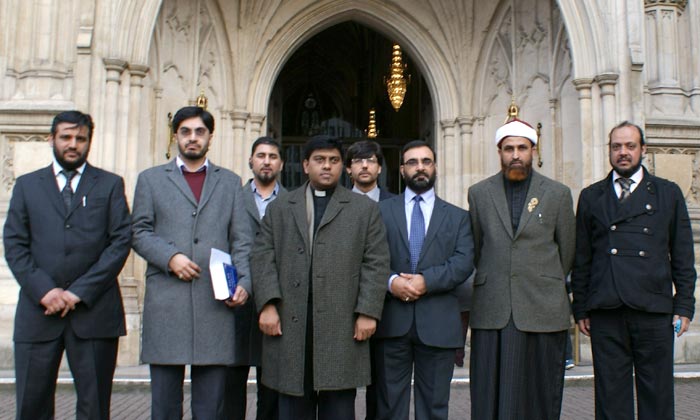 Reported by: Shahid Mursaleen