Christian leaders term Shaykh-ul-Islam as a bridge between Islam & Christianity, eulogize his services for peace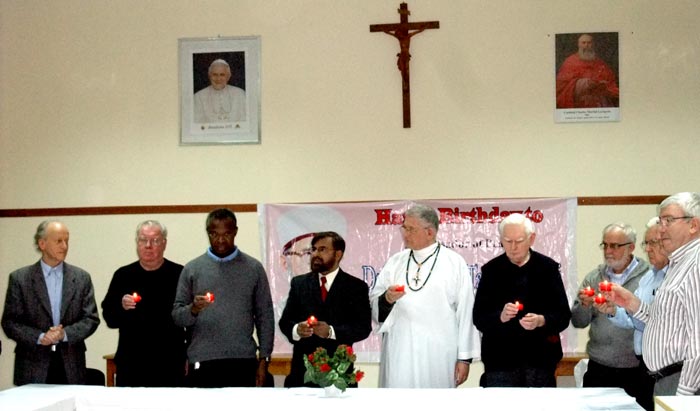 A ceremony marking the 60th birthday of Shaykh-ul-Islam Dr Muhammad Tahir-ul-Qadri and interfaith prayer was held on March 19, 2011 in the oldest city of Christianity i.e. Vatican City under the banner of Directorate of Interfaith Relations, Minhaj-ul-Quran International. Interfaith representatives belonging to 18 countries participated in the ceremony. Sohail Ahmad Raza, Director of Interfaith Relations, was the host of the event who is currently on tour of Italy in connection with interfaith harmony. The ceremony was organized in a beautiful hall of Vatican City.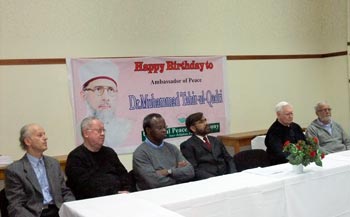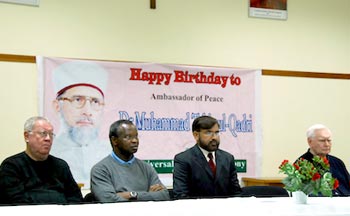 Mr. Fr. Baawobr Richard, who is General Supper of Mission Africa, was the guest of honour in the program. A large number of Muslims in addition to Christian representatives from Italy, France, Portugal, Spain, Canada, Denmark, Ghana, Germany, UK, Poland, Somalia, Iran, Belgium and Sweden attended the ceremony. The distinguished participants included Fr. Vezzoli Michele (Italy), Fr. Aurelio (Spain), Fr. Poirier Jacques (Canada), Mr Sohail Ahmad Raza (Pakistan), Fr. Richard Francois (France), Fr. Baawobr Richard, Superior General (Ghana), Fr. Otmar Strzoda (Germany), Fr. Jean Chaptal (Switzerland), Br Patrick O. Leary (Great Britain), Fr. Gonzalo (Portugal), Fr. Pello Robert (Poland), Fr. Juan Jose (Spain), Fr. Carbonneau Michel (Canada), Fr. Peter (England), Fr. Sawadogo Emile (Burkina Faso Diocesan), Fr. Kapya Arsene (Congo), Fr. Ambusa Prosper (RD Congo), Fr. Robert Augustus Oduro (Ghana), Mr. Meftah Ahmad Reza (Iran), Fr. Giuseppe (Poland), Fr. Fons (Belgium), Fr. Mathew Biju Koothottil (India), Fr. Pulavelil Joseph (Sri Lanka), Fr. Martin Gonzalo (Spain), Fr. Tebri Robert (Kenya), Fr. Marc Nsanzurwimo (Burundi), Fr. Aayire Nicholas (Ghana), and Fr. Groiselle Michel (France).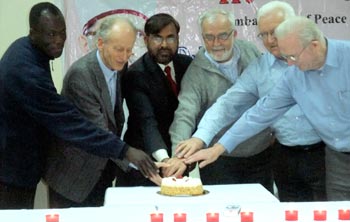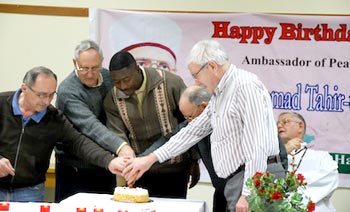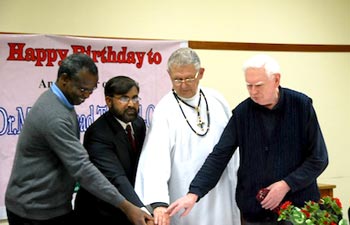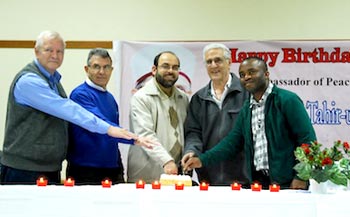 The proceedings of the ceremony began with the recitation from Bible followed by recitation of the Holy Quran along with English translation. A silence of one minute was observed for those killed in Tsunami which hit Japan at the outset of the program. Welcoming the guests, Sohail Ahmad Raza gave a detailed introduction of Shaykh-ul-Islam Dr Muhammad Tahir-ul-Qadri, chairman of Muslim-Christian Dialogue Forum and threw light on his services for promotion of peace, interfaith dialogue and harmony in the world. He specifically referred to historic Fatwa authored by Shaykh-ul-Islam. Afterwards, the participants cut the cake of Shaykh-ul-Islam's 60th birthday. They paid tribute to him for his services by holding peace candles in their hands.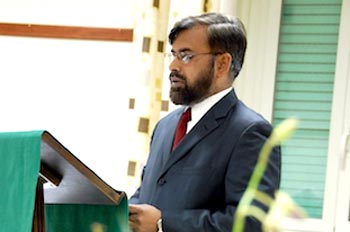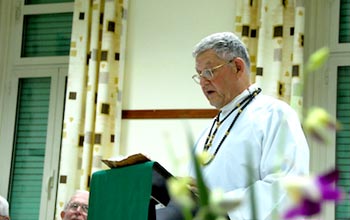 Different leaders expressed their views on the occasion and stressed the need of promoting interfaith harmony to offset the challenges facing humanity in a proactive manner. They also appreciated the services of Minhaj-ul-Quran International under the leadership of Dr Muhammad Tahir-ul-Qadri with special reference to his Fatwa against terrorism. They said that Dr Tahir-ul-Qadri is leading from the front in the efforts for restoration of peace and promotion of harmony and peaceful coexistence in the world. They added that his efforts would help bridge the gulf amongst all religions especially between Islam and Christianity and allay the misconceptions. The dinner was served at the conclusion of ceremony.