MYL presents the Fatwa to Alex Salmond (First Minister of Scotland)
On the First Minister's recent visit to Glasgow, Mr Alex Salmond, who has close connections with Mr Abdul Majid (Chairman of Scots for Independence & brother of Haji Abdul Wahid), was presented with the recent Fatwa issued by Shaykh-ul-Islam Dr. Muhammad Tahir-ul-Qadri. Other members of MQI International who were present on the occasion were Haji Abdul Wahid (Head of MQI Glasgow), Haji Abdul Majid, Adil Lateef Butt and Muhammad Waseem Tabassum Herrera.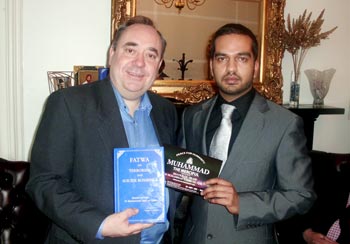 The 600-page Fatwa was introduced to the First Minister by Rehan Ahmed Raza, a member of the Muslim Youth League. He gave a brief introduction and insight into the purpose and meaning of the fatwa and shed light on the great positive reception it has received from all over the globe. He was informed about the immense coverage it was given in electronic media along with the print media. It was then gifted to Mr Salmond.
Mr Salmond highly appreciated the efforts of Shaykh-ul-Islam in building the bridges between the East and the West and striving firmly in removing the misconceptions about Islam.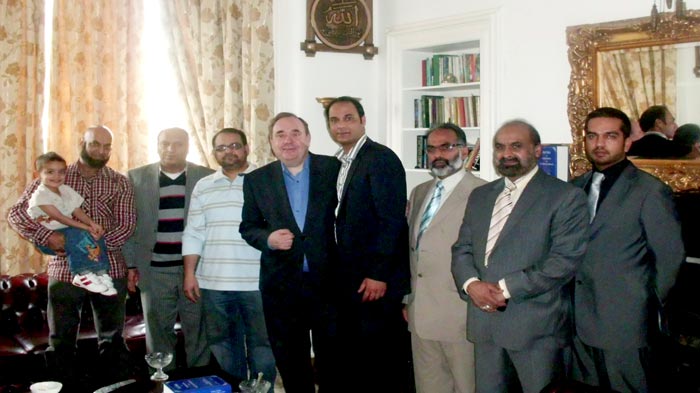 An invitation to the Global Peace conference was also given - "Muhammad (Peace be upon him) the Merciful" which will take place in September 24th 2011, in which his eminence Shaykh-ul-Islam Dr Muhammad Tahir-ul-Qadri will be the main speaker. Mr Salmond much appreciated this invitation and will hopefully join us in order to portray the true teachings of Islam, the Quran and the Messenger of Allah (Peace be upon him) within both, Holyrood and the Westminster parliament. A formal invitation will also be given to the First Minister nearer the time.