MQI Manchester holds Award Ceremony 2011
Minhaj-ul-Quran Manchester organized a parents evening for the Quran classes. There were over 100 people attending the parents evening along with Ateeq Ullah Butt, President of MQI Manchester, Mummad Zulfikar vice president of MQI Manchester, Muhammad Islam, General Secretary MQI Manchester, Haji Muhammad Saeed Finance Secretary MQI Manchester, and Mr. Fyaaz along with the rest of the executive and the teachers of MQI Manchester.
The evening started with a warm welcome extended to all the parents and continued with the introduction of Minhaj-ul-Quran's aims and objectives. The proceedings of parents' evening got underway with the Tilawat-e-Qur'an by Daniel Mehmood (Students MQI Manchester) and Qaseedah Burdah Shareef by Shehzad Ashiq (Teacher MQI Manchester).Mr. Fyaaz told the children the importance of knowledge followed by some rules and regulation of the classes. He also told the parents and the children how important it was to study their lessons at home as well. Mr. Ateeq introduced the new syllabus, which MQI Manchester will be implementing after Ramadan Insha Allah.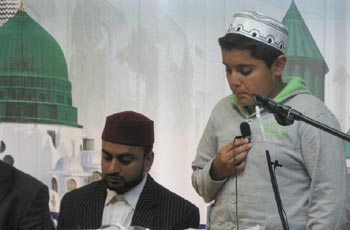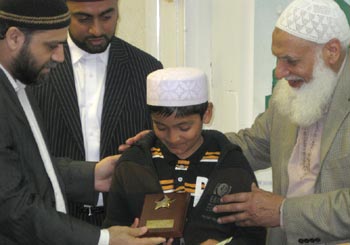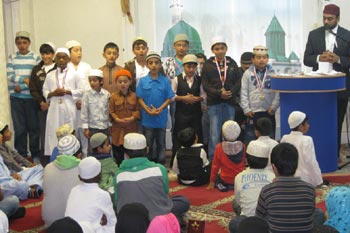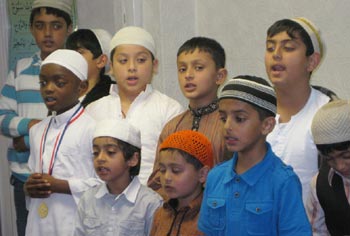 Then it was time to announce the students of the Year 2011. MQI Manchester chose 4 students this year who would get shields, certificates and a medal for their attendance, good behaviour and their lessons. MQI Manchester also chose four students just for Medals and the following four students were selected for Shields, Certificate and Medals. Haiqa Riaz,Hannah Khatijah Aslam, Ammar Bin Amer, Ibrahiem Bakare.The children then recited Durood Shareef. Refreshments were served at the end of the program.
Reported by: Mozzam Raza