Shaykh-ul-Islam officially opens new head office of Minhaj Welfare Foundation (London)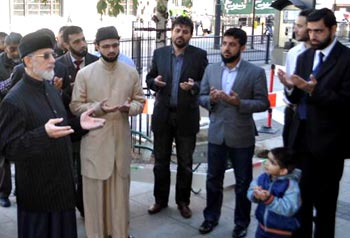 Shaykh-ul-Islam Dr Muhammad Tahir-ul-Qadri, inaugurated the Minhaj Welfare Foundation's new head office in London
(Friday, 21 October 2011) Minhaj Welfare Foundation (MWF) UK & Europe opened its new head office in London. Shaykh-ul-Islam paid a short visit to the new head office prior to his departure for Hajj 2011.
MWF UK & EU has been rapidly expanding its welfare operations and progressing over the past few years. The new head office is to aid the expansion and development of MWF to ensure that it progresses and develops towards the vision set by its founder, Shaykh-ul-Islam Dr Muhammad Tahir-ul-Qadri. With the support of thousands of donors as well as affiliate members of Minhaj-ul-Quran International, MWF has succeeded in supporting development projects around the world.
Sahibzada Hassan Mohi-ud-din Qadri and Sahibzada Hammad Mustafa al-Qadri both were delighted to participate in the opening of the new office. Sahibzada Hassan Mohi-ud-din Qadri prayed for the long and sustainable future of MWF.
The ceremony marked the completion of MWF UK & Europe head office setup process. "I am delighted that MWF has been able to establish its new office here in London, and that in so doing it will continue pursuing its aims and objectives," said Dawood Mashhadi Managing Director, MWF.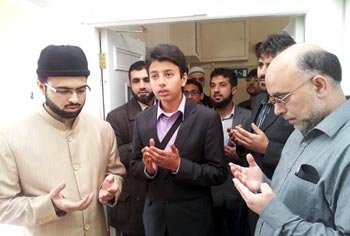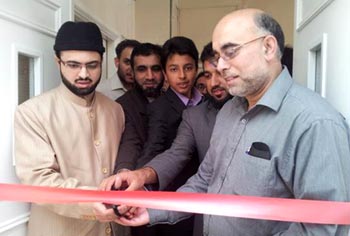 Alhamdulillah we look forward to establishing our office in London" Sagheer Akhtar, Director MWF said. "There is much that Minhaj Welfare Foundation can do here, and with the support of donors and volunteers, Inshallah we will be able to expand our work worldwide."
The ceremony concluded by a final prayer from Shaykh-ul-Islam who met with the MWF executive and office bearers.
Please note the new contact details for MWF UK & EU
Office: +44 (0) 2033 754 730 | Direct Dial: 02033 754 733
Donation Line: +44 (0) 300 30 30 777
Head Office: 298 Romford Road, London, E7 9HD
Address: 298 Romford Rd, E7 9HD, London.