Aqil Qadir's meets Shaykh ul Islam
Oslo- On 19th February, Aqil Qadir, Deputy Secretary of MQI Norway, called on Shaykh-ul-Islam Dr Muhammad Tahir-ul-Qadri and presented him with translation of three of his books which had been translated into the Norwegian language. Shaykh-ul-Islam was very happy and made special dua for the efforts of MQI Norway chapter.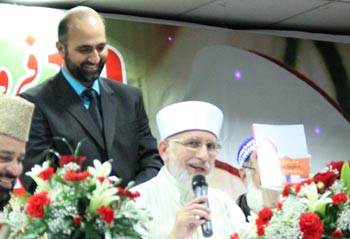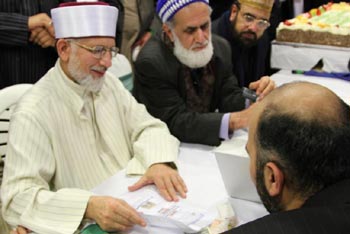 Aqil Qadir told Shaykh-ul-Islam that the translation of Irfan-ul-Quran was in its final printing process and insha'Allah it would soon be out. In addition to that, a 45-member delegation of MQI Norway also met Shaykh ul Islam on this day in Birmingham and congratulated him on his 61st birthday. They also participated in Birthday celebrations of Shaykh-ul-Islam.
Reported By: Aqil Qadir