Terrorism alien to Islam: Shaykh-ul-Islam
Shaykh-ul-Islam Dr Muhammad Tahir-ul-Qadri, the founding leader and Patron-in-Chief of Minhaj-ul-Quran International, has said that the Holy Prophet (SAW) described all communities as one nation. He said that Islam is a religion of peace and those who associate terrorism to Islam or justify their otherwise reprehensible actions by misusing the fair name of Islam do so out of sheer vested interests as terrorism is alien to Islam. He said that bracketing terrorism with Islam was a conspiracy against the Muslims which sought to bring them into disrepute.
Shaykh-ul-Islam expressed these views while giving a talk at a reception K. Rahman Khan, Deputy Chairman of Rajjiya Sabha (Upper House of Indian Parliament), organized in his honour at his residence in New Delhi.
Shaykh-ul-Islam said that the Holy Prophet (SAW) established a cosmopolitan, multi-cultural and multi-faith society and gave a comprehensive charter of human rights for the first time in the world history. He also implemented those rights in the state of Madina.
Dr Muhammad Tahir-ul-Qadri said that the Holy Prophet (SAW) presented the community as one nation consisting of different ethnicities and races and knit them with one another in a relation of brotherhood, principles of social justice and harmony. He said that he went through different religious books such as the holy Quran, Bible, Torah, Geeta, Vaid but no religion ever taught or sanctioned the use of violence or terrorism.
Shaykh-ul-Islam Dr Muhammad Tahir-ul-Qadri said that it was wrong to ascribe terrorism to any particular faith as terrorism was a crime against humanity as well as the teachings of all religions. He emphasized the need of peace and normalization of relations between India and Pakistan, adding that the resources so saved could be spent on the wellbeing of the suffering humanity.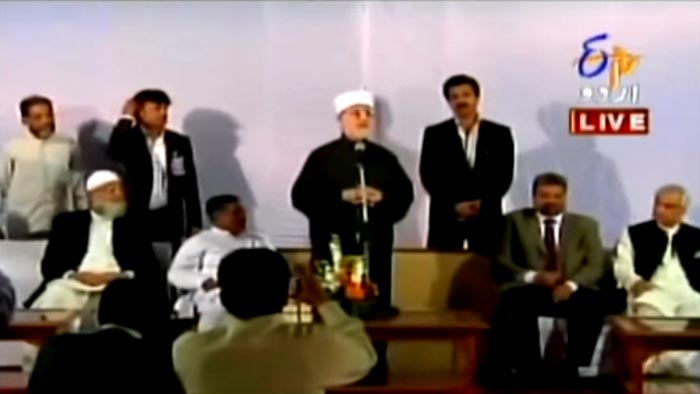 The distinguished guests who attended the reception included Ahmad Patel, Advisor to Ms Sonia Ghandhi (Congress head), Congress leader Moti Lal Wohra, Jinardin Waidi, central Ministers Farooq Abdullah, Saif-ud-Din Soz, Justice Katju, Pakistan's High Commissioner Shahid Malik, Durdarhsan TV DG S.M. Khan, Maulana Mahmood Madni (Member of Parliament), Azhar-ud-Din (MP), Shafiq-ur-Rehman Burq (MP), former University VC Siraj Hussain Afzal, Asad Raza Aziz Burni, Shakeel Shamsi, Masoom Murad Abadi, and Hassan Shuja.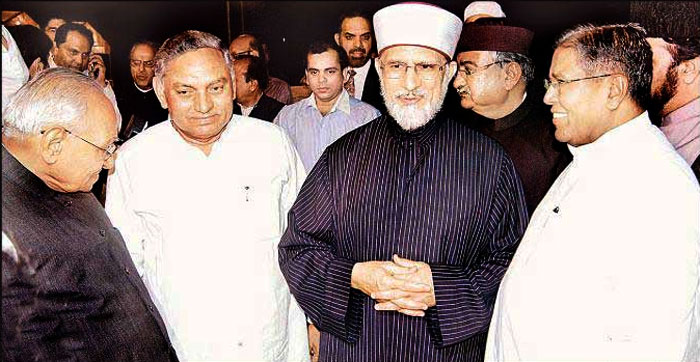 K. Rehman gave a warm welcome to Shaykh-ul-Islam Dr Muhammad Tahir-ul-Qadri on his arrival. He also conducted the proceedings of the programme.