MWL Walsall takes to the waves on Radio Ramadhan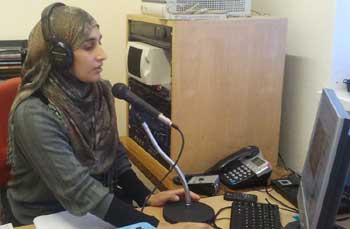 Every year Minhaj-ul-Quran International Walsall runs Radio Ramadhan for the whole of the holy month. It becomes beneficial for the community. As always, various businesses sponsor radio programme. We are grateful to these businesses for their support in this worthwhile cause, as well as the people from Walsall and surrounding areas who volunteer their time to present programme of various topics.
Youngsters present youth shows and other presenters take part in activities in bringing the community together. Competitions are held and prizes are given out to lucky winners. The Women League have a slot of 1pm—3pm every day. Sister Seema who is the Secretary General of the Walsall Women League presents a show, from Monday to Friday, which was to be presented by Baji Mussarat, President of Women League Walsall, who was unable to attend this year due to her engagements. Ms. Rani, who is in charge of writing reports and Halqa Durood, conducted a beautiful mehfil-e-naat programme, where listeners phone in to recite naats, nasheeds and Tilawat-e-Quran. All Women League programme have competitions and winners are invited into the studio to recite any naat and receive their prizes. The participants enjoyed the programme and the feedback was very good and informative. We have also been selling raffle tickets to raise money for the mosque and have done very well. By grace of Allah Almighty, the radio has been very successful. We will continue the good work of community engagement.
Reported By: Mozzam Raza