MQI (Blackburn) holds monthly 'Dars-e-Irfan-ul-Quran & Halqa-e-Durood'
This month's Dars-e-Irfan-ul-Quran and Halqa-e-Durood were held at Sufi Ikhlaq (President MQI Blackburn) residence on 06/12/2012 at around 19:30. Special guest and Lecturer for this event was Shaykh Abdul Saeed Sahib from Minhaj Ul Quran Centre Nelson, UK.
This spiritual program started at around 19:30 with participants reading DuroodShareef. DuroodShareef was read around 4,500 on this blessed occasion. The recitation from Glorious Quran was done by brother Hashmat Khan. After the recitation of Glorious Quran, couple of Naat-e-Rasool-e-Maqbool S.A.W wereread by brother Hashmat Khan and brother Zain Shabbir.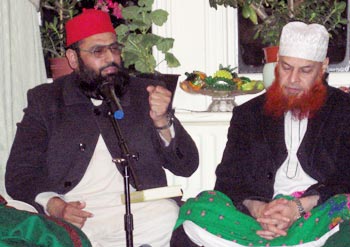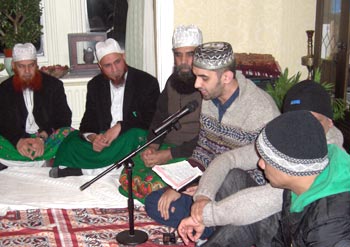 Shaykh Abdul Saeed was then invited to deliver the keynote lecture; he chose the topic 'Love with Ahl e Bait' for his lecture.He said that whoever we love in this world we shall also be with them in the life after, so why not love those holy and most beloved personalities who can give us benefit on the judgement day. He emphasised that we should avoid following and loving those personalities whom we know that they will not give us any benefit on the day of judgement.
Shaykh Abdul Saeed also that loving Ahle-Bait of Prophet Muhammad S.A.W. is the most beautiful thing we can do in this world. Shaykh Abdul Saeed quoted a Hadith of Prophet Muhammad S.A.W. that "the fire of hell cannot touch my beloved daughter Fatima (A.S.) and it cannot touch to those who love Fatima (A.S.)".
After the beautiful lecture by Shaykh Abdul Saeed, participants did 'Zikr' of Allah S.W.T. Two course meals were served by Haji Yakoob sahib at around 21:45 anddua was made by Shaykh Abdul Saeed to conclude the proceedings for the day.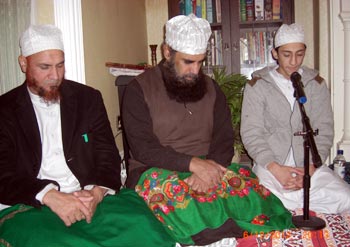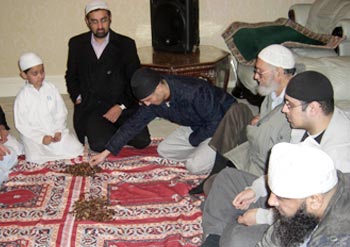 MQI Blackburn holds this spiritual gathering every month and scholars from MQI Centres participate to deliver keynote lectures.
MQI Blackburn aims to gather more and more people from our community to such blessed gatherings and youths are specially targeted to come to these programs to gain religious knowledge and to also entertain their souls with ever-lasting pleasure of Glorious Quran and DuroodShareef.
Report by: Muhammad Arslan Ali Qadri (MQI Blackburn Coordinator)