Dr Tahir-ul-Qadri's struggle voice of the people: Lord Nazir Ahmad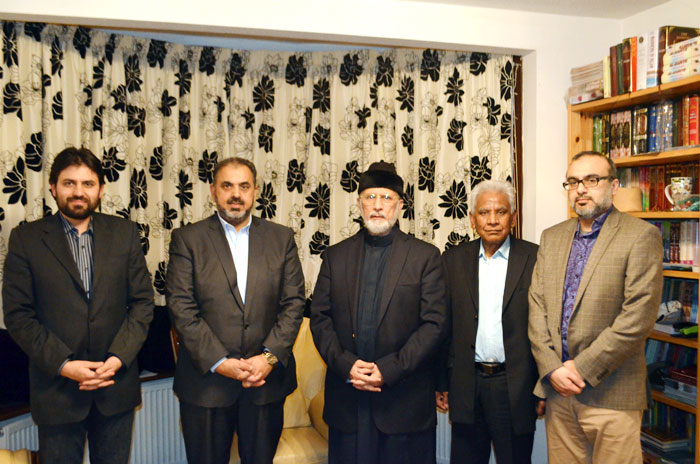 Lord Nazir Ahmad, the member of House of British Lords with Pakistani origin, held a meeting with Shaykh-ul-Islam Dr Muhammad Tahir-ul-Qadri, the founder and patron-in-chief of Minhaj-ul-Quran International in London the other day. Both leaders exchanged matters of mutual interests including the political situation in Pakistan and electoral system during the meeting which continued for two hours.
Dr Muhammad Tahir-ul-Qadri apprised Lord Nazir Ahmad of MQI's public awareness campaign including mega events that were held under its banner such as historic sit-ins and nexus of the corrupt mafia, their conspiracies to plunder national wealth, and the strategy to foil their plans.
Talking to Daily Jang after the meeting, Lord Nazir Ahmad expressed his full agreement with Dr Tahir-ul-Qadri with regard to latter's reservations on the current electoral and political system. He appealed to the influential institutions and nation to launch sustained struggle straightaway to make the country's future bright instead of being condemned to another five years of bad governance and mismanagement. He warned that if they did not heed the call of time, they should be ready to face corrupt mafia and occupation group that would be imposed on them in the form of change of faces.
Lord Nazir Ahmad said that facilitating anyone to avoid scrutiny process as prescribed under Articles 62 and 63 would be akin to committing treason. He said that the previous government broke past corruption records and turned the country into the land of darkness. He asked those parroting the mantra of democracy to decide on the basis of national and collective interests instead of personal ones. He said that oversees Pakistanis were convinced that Pakistan needed honest, competent and credible leadership instead of corrupt and dishonest leaders; a leadership who could be source of pride for the Diaspora community.
Describing Dr Tahir-ul-Qadri's struggle as voice of the oppressed and the suppressed, he expressed the hope that the fruits of movement launched by MQI for implementation of electoral reforms including Articles 62 and 63 would be visible in the upcoming elections. However, he added in the same breath that if anyone tried to frustrate these reforms and brought its pressure to bear upon the process, it would push the country into blind alley paving the way for more instability and discord.
Dawood Hussain Mashahdi, Dr Zahid Iqbal, and Barrister Islam Ch were also present on the occasion.