Jakarta (Indonesia): Dialogue & respect for diversity central to fighting sectarianism, Dr Hussain Mohi-ud-Din Qadri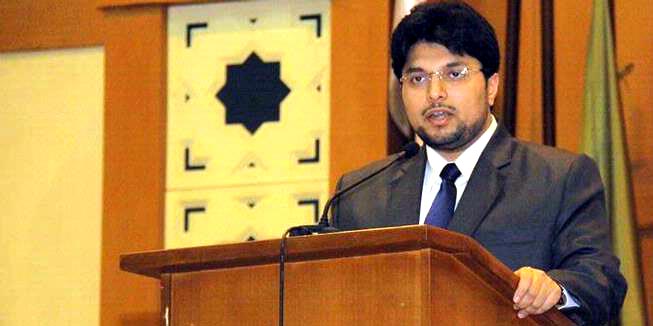 Dr Hussain Mohi-ud-Din Qadri, President of MQI's Federal Council has said that going by the events taking place in different parts of the world, it appears that violence has emerged as a key instrument and an option of the preferred choice to put across one's point of view. While factors and variables responsible for spawning violence and bloodshed vary depending upon the context, geography, political and economic systems of violence-infected regions, the agreement among 'the stakeholders' to resort to violence to push through one's agenda or even to attract attention to their real or supposed grievances points to alarming trends, which if not checked through a well-thought through and carefully calibrated policy, have the potential of plunging the world in more chaos and strife.
Dr Hussain Mohi-ud-Din Qadri expressed these views while addressing 5,000 participants at a public lecture series on the theme of "Pakistani Youth Role in Dissemination of Preventing Pro Violence Ideology based on Religion" in Jakarta the other day. The series was organized in collaboration with UIN Syarif Hidayatullah.
Dr Hussain said that what reinforced failure and exposed the nation-states' inability to stem the upsurge in violence is the ineffectiveness of institutions to acknowledge instances of discrimination and put in place effective deterrence and mechanisms aimed at protecting fundamental rights, dispensation of inexpensive and speedy justice, equitable distribution of resources, ensuring rule of law, encouraging community participation and ensuring effective service delivery. He said that the growing disenfranchisement and alienation experienced by a select group of people who employ violence at having been wronged presented a daunting challenge.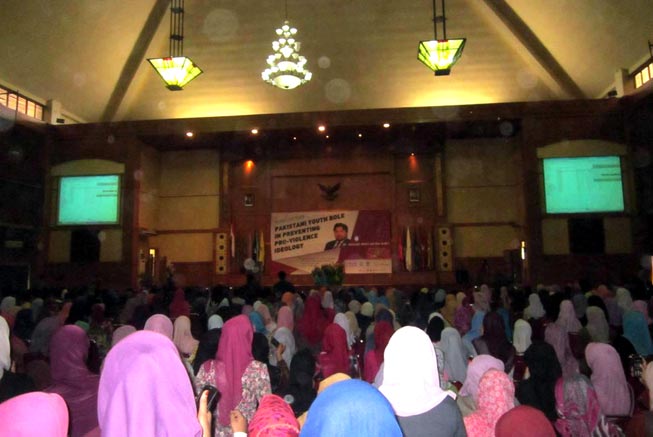 Dr Hussain Mohi-ud-Din Qadri said that of all the forms and manifestations the violent behaviours expressed itself in, violence emanating from religious dogma with manifest faith-based motivation and undertone emerged as the most formidable challenge for states and their institutions. He said that in their efforts to contain this violence, the security apparatus were often been found wanting, adding that the states that were dealing with such phenomenon had taken the convenient route of using hard power. With the passage of time, he opined that the inadequacy of such approaches to deliver effective and sustainable results had only been brought home leaving state institutions in a quandary.
Throwing light on the history of spread of violence and sectarianism, Dr Hussain Mohi-ud-Din Qadri said that the phenomenon of religion-based violence, though not new, was quite unique. He said that it had different dynamics, motivations and orientation than violence of other kinds. He said that experts agreed that sectarian violence was the most deadly manifestation of religion-based violence. While sectarian fissures and differences had been present in the Islamic societies since the time of the Holy Prophet's demise from this world, the relations between followers of various sects, sub-sects and sub-faiths had been harmonious, friendly and cooperative until early 20th century, which saw the disintegration of the Ottoman Empire and balkanization following the First World War, he added.
He said that the reason that lay at the heart of relative social harmony was that sectarian differences were the subject of scholarly debates and discussions among scholars of different sects, further saying that they never travelled to the community level. "However, a combination of international, regional, and local factors altered the entire situation. Today, the Muslim world is the worst victim to this form of violence, he held.
Dr Hussain Mohi-ud-Din Qadri said that in order to form holistic, fool-proof and comprehensive strategy aimed at eliminating faith-based violence, comprehensive strategy deserved developed aimed at exploring its depth, structure, and motivations.
Dr Hussain Mohi-ud-Din Qadri underlined the need for promoting dialogue and respect for differences and religious beliefs in as diverse a society as Indonesia, adding that such an approach would lead to social harmony and balance. He also talked about role and contributions of MQI and Shaykh-ul-Islam Dr Muhammad Tahir-ul-Qadri in eliminating sectarianism and establishing a harmonious society through promotion of peace, and interfaith dialogue in Pakistan as well as abroad.
Online Coverage Links