Pakistan & current system are incompatible: Dr Tahir-ul-Qadri speaks at 'Democracy Conference' in UK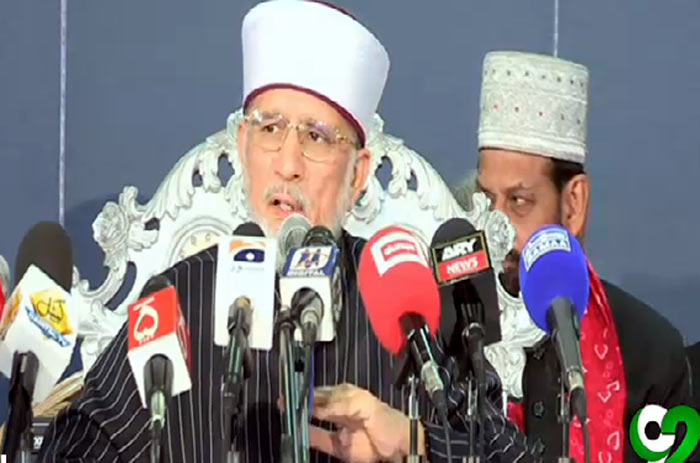 "Pakistan and True Democracy Conference' was held under the banner of Minhaj-ul-Quran International (UK) on May 04, 2013 in Bingley Hall, Birmingham, UK. Shaykh-ul-Islam Dr Muhammad Tahir-ul-Qadri delivered his keynote address to the hundreds of participants of the Conference.
The Conference opened up at 1:00 p.m. (UK Time) and its proceedings were broadcast live around the world through C92.tv. Thousands of men and women from across Europe in addition to the UK attended the Conference.
Addressing the Conference, Dr Muhammad Tahir-ul-Qadri said that when oppression, violation of human rights and injustice rule the roost before the people, the powerful encroach upon the rights of the weak and the people, despite being aware of all these things, do not rise against the oppressors, blood suckers and dacoits, Allah Almighty will plunge the entire nation into a never-ending torment. He said that when people do not stand up to dishonesty, obscenity and plunder and stay mum over the prevailing state of affairs, God's torment will descend upon their silence and will gradually engulf the entire nation.
Quoting a Hadith, Dr Tahir-ul-Qadri said that the age of mischief will be the one when breach of promises, and plunder of trusts will become rampant among you and looters, and violators of rights will be so intertwined despite their separate organizations as the fingers of hands are together. The Holy Prophet (peace be upon him) advised the believers when such circumstances were created, they should not listen to anyone but act as per command of Allah and His Prophet (peace be upon him). They should stay steadfast on truth, and follow the commands of Allah and His Prophet (peace be upon him) not the people.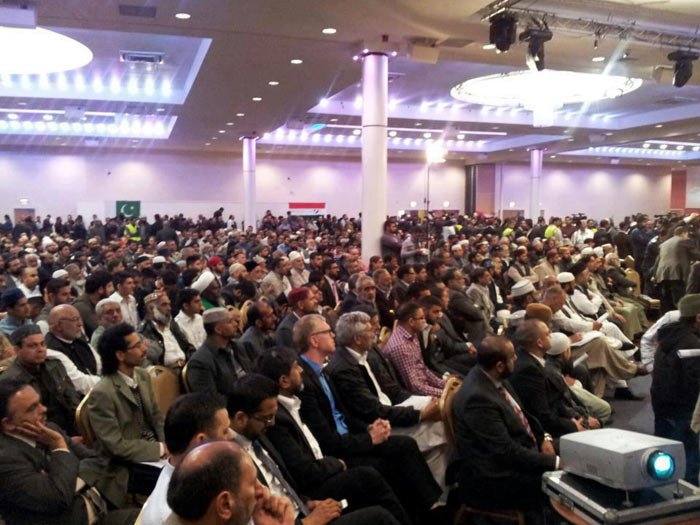 Dr Tahir-ul-Qadri said that we complied with the command of Allah and His Prophet (PBUH) in this age of mischief. He said that the society whose leaders would heed people, play to the gallery and would not distinguish between the good and bad instead of acting upon Allah's and His Prophet's commands will fall prey to torment.
Portraying the prevailing state of affairs, Dr Qadri read out a couplet (whose translation is):
"Our house had caught fire
Some people came to extinguish it
Whatever was safe from fire
Fell into their hands"
For the so-called democrats who have been violating the poor's rights for last 65 years with abandon, he quoted another verse (whose translation is):
"I have bought bread by selling my blood
O head of the city, tell whether it is forbidden or permissible"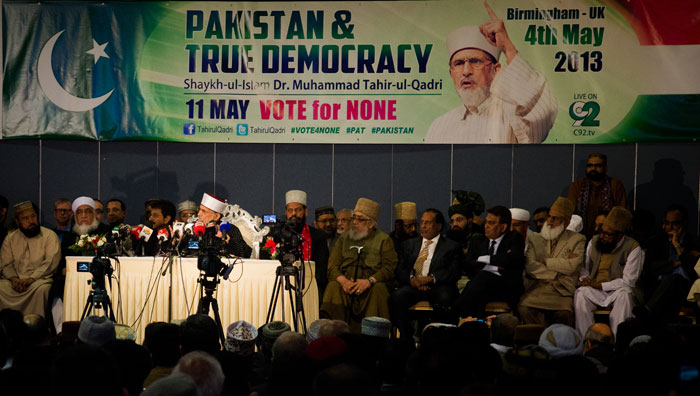 Dr Muhammad Tahir-ul-Qadri said that the system was going to install the same crop of plunderers and looters back into corridors of power on May 11. He said that what to speak of the system, even the faces would not change. He said that illegally composed Election Commission baptized the tax cheats and loan defaulters by violating the Constitution and cleared them in the highly questionable scrutiny process. Now they would have every justification to claim that they were declared eligible under Articles 62 and 63 and there was no blot on their character. He said that the Election Commission was responsible for this situation. He said that those who protected the Election Commission should remember that this nation would not forgive them.
Dr Tahir-ul-Qadri said that outcome of elections on May 11 would make it known to the people that what Dr Qadri had been saying proved true. He said that we did not compromise with the forces of evil, remained steadfast on truth and acted upon the command of Allah Almighty and His Prophet (peace be upon him) by rejecting this oppressive, corrupt and inequitable system.
On the issue of terrorism, Dr Tahir-ul-Qadri said that if the institutions were serious about eliminating terrorism, why were they being expedient? Did they not know the sources of funding of the militant organizations? Why were they not moving to expose those who were accepting the money to project the agenda of their financiers? He placed it on record that he or his organization never took any kind of funding from any internal or external agency during last 33 years and if his claims proved false, he was ready to go to the gallows. He said that he was disciple of Shaykh Abdul Qadir Jilani and none could buy his shoes leave alone purchasing his loyalty.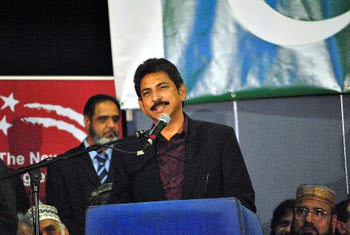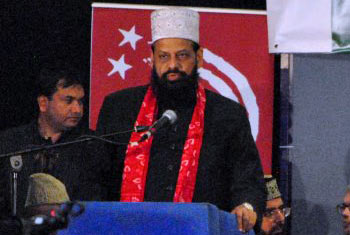 Throwing light on the concept of democracy, Dr Muhammad Tahir-ul-Qadri said that democracy was all about fulfillment of rights, dispensation of socio-economic justice in the society, respect for dissent and rule of law. He said that we demanded establishment of real democracy which responded to the poor's needs, mainstreamed their role in the national decision-making, eliminated corruption, ensured dispensation of inexpensive but quick justice to all sections of society and paved the way for emergence of clean and honest leadership.
Dilating upon the quality of democracy pracised by different countries, Dr Tahir-ul-Qadri said that 25 countries were declared as full democracies, 53 countries were flawed democracies whereas 73 countries belonged to the category of hybrid regimes. Elections took place in these hybrid regimes and records of corruption were broken in the name of democracy there.
Dr Qadri said that Uganda was ahead of Pakistan in the democracy index. According to an Economist's report, Uganda, Palestine, Kenya, Bhutan and Pakistan were ranked as 96th, 99th 103rd, 104th and 105th respectively with Pakistan at the bottom. He further said that Pakistan was ranked at 92nd position in terms of socio-economic potential in 2007-08. Its status was lowered by 12 points in 2008-09. The country stood at 101st position in 2010 and it had further fallen below at 123rd position during the current year.
Dr Muhammad Tahir-ul-Qadri said that had there been democracy in Pakistan, there would have been rule of law in the country. All would have been equal in the eyes of law and affordable and quick justice would have been delivered to the people without any discrimination. He predicted that following the conclusion of polls on May 11, those raising the slogans of change would hold a press conference and say that rigging was committed at a massive level.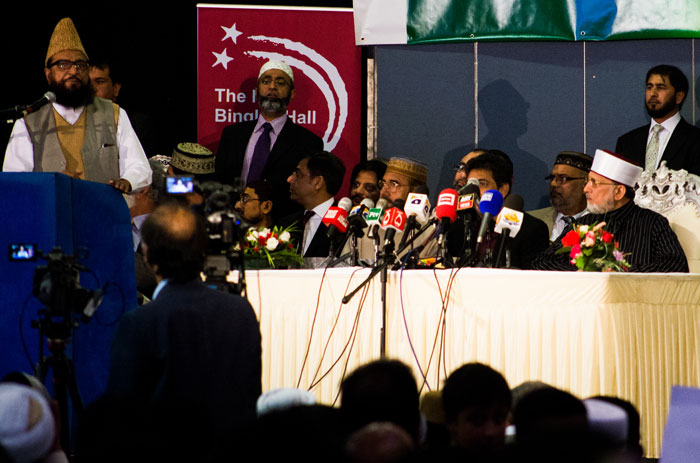 Dr Tahir-ul-Qadri said that the country would not be able to progress under the current system and that is why he did not become part of this obsolete and rotten system. He said that he wanted to send this system packing, adding that he was an advocate of peaceful, democratic change in the country. He said that he wanted to see Pakistan develop into a polity which had the courage of saying No to dictates of foreign powers.
Dr Qadri said that he wanted to devolve the country into 35 provinces with each Division being declared as a province, adding that each province would have Governor as its administrative head instead of a Chief Minister or Cabinet. He said that he was in favour of devolution of all powers to grassroots—at the district, tehsil and union levels. He said that he wanted to divide the ill-gotten riches of the plunderers among the masses.
In his message to the people of Pakistan, he asked them not to become part of pro-status quo and anti-people system. He said that time would soon come when the poor and the week would snatch their rights from their oppressors. He asked the workers to stay steadfast and keep on struggling, adding that they would surely succeed.
Khawaja Ghulam Qatubuddin Yar Faridi, Dr Danish, renowned anchor of ARY Newsand other scholars addressed the Conference.