Dr Hussain Mohi-ud-Din Qadri reaches Denmark on Scandinavia tour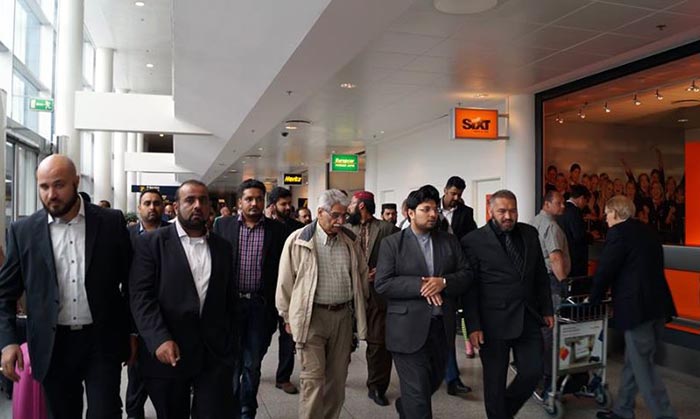 Dr Hussain Mohi-ud-Din Qadri, President of MQI's Federal Council, reached Denmark on an organizational tour. Upon his arrival at the airport on June 19, the leaders and workers of MQI (Denmark) game him a warm welcome. The workers showered rose petals on him while the young children presented him bouquets of flowers.
Those who came to receive the beloved son of their leader Shaykkh-ul-Islam Dr Muhammad Tahir-ul-Qadri included Syed Mahmood Shah, President of MQI (Denmark), Abdus Sattar Siraj (vice head of MQI European Council), Qaiser Najeeb, Shaykh-ul-Islam's spokesman for Scandinavia, Hafiz Sajjad Ahmad, vice president of MQI (Denmark), Muhammad Sarwar, President of Consultative Council, Hassan Bostan, President of MYL (Denmark), Qari Zaheer Ahmad, MQI North West (Denmark), Hafiz Idrees Ahmad Al-azhari, Moazzam Butt, Allama Nafees Ahmad, Allama Syed Naeem Shah, Allama Awais Qadri, Muhammad Akram Jora, Qari Nadeem Akhtar and a good number of workers of different forums of MQI including Women League.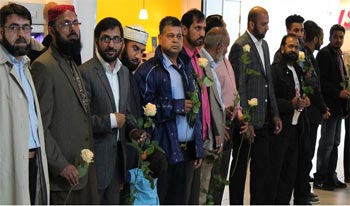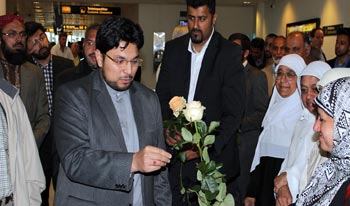 During his stay, Dr Hussain Mohi-ud-Din Qadri will address a number of conferences and gatherings including a speech at Metropole University Copenhagen on the topic of "Modern democracy with roots in Islam" on Thursday, Miraj-e-Mustafa (SAW) Conference on Saturday and Workers Convention of Sunday. In addition to these engagements, he will have meeting with workers of MQI and members of Pakistani expatriate community. He will also visit new centre of MQI (Denmark). He will leave for Norway after the conclusion of his visit.