Dr Tahir-ul-Qadri urges Muslims to forge unity at Khatm-e-Nabuwwat Conference UK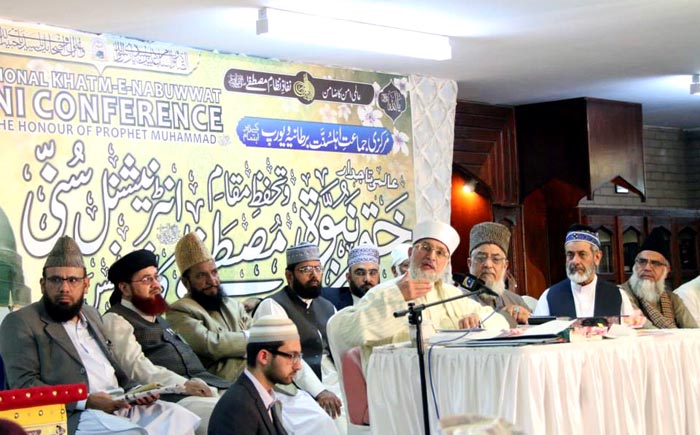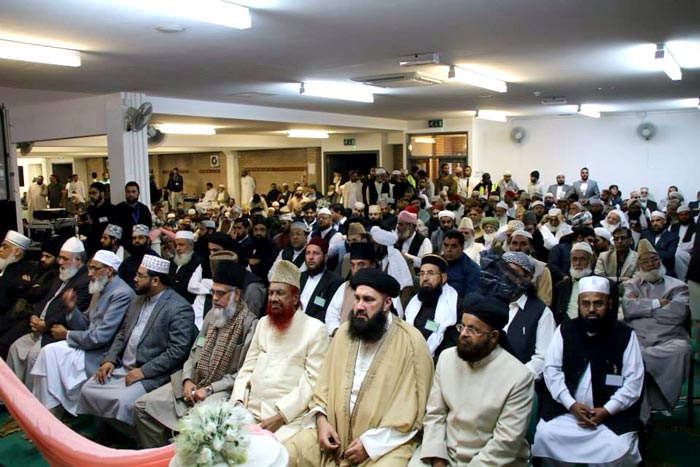 The Muslim community needs to rise above their narrow differences and forge unity and brotherhood in their ranks without any further loss of time otherwise they will continue to fall prey to internal and external conspiracies and will ultimately be eliminated from the face of earth. The only solution to sectarian differences among the Muslims is to comply with the teachings of the Holy Prophet (peace and blessings be upon him) both in letter and spirit.
These views were expressed by Shaykh-ul-Islam Dr Muhammad Tahir-ul-Qadri while addressing international 'Tajdar-e-Khatm-e-Nabuwwat' Conference in Birmingham, which was held under the banner of central Jamaat e Ahle Sunnat UK & Europe. The audience, which comprised people from various walks of life, listened to the keynote address of Shaykh-ul-Islam with rapt attention.
Dr Muhammad Tahir-ul-Qadri said that the international powers were crating 'situations' in these countries by using their trained 'Taliban and Al-Qaeda accomplices' that could justify their intervention in accordance with carefully calibrated strategy. He said that impending attack on Syria was part of the same strategy. He said that the war against Syria is part of global agenda. The power and wealth of some of the Islamic countries is lending a helping hand in this regard. He made it clear that sectarian differences never existed in Iraq, Syria and Egypt and no sectarian-based violent activities took place in these countries in the past.
Dr Tahir-ul-Qadri drew on the Holy Quran and Hadith and gave a meaty and logical talk on the subject of status and station of the Holy Prophet (peace and blessings be upon him). He said that he who did not subscribe to the exalted station of the Holy Prophet (peace and blessings be upon him) was out of fold of Islam without any shadow of doubt and the same would be the most important question asked in the grave as well. The man would be asked as to what he thought of the person and station of the Holy Prophet (peace and blessings be upon him). He said that solution to all raging problems facing the Muslim world lay in complete compliance of the Holy Prophet's teachings.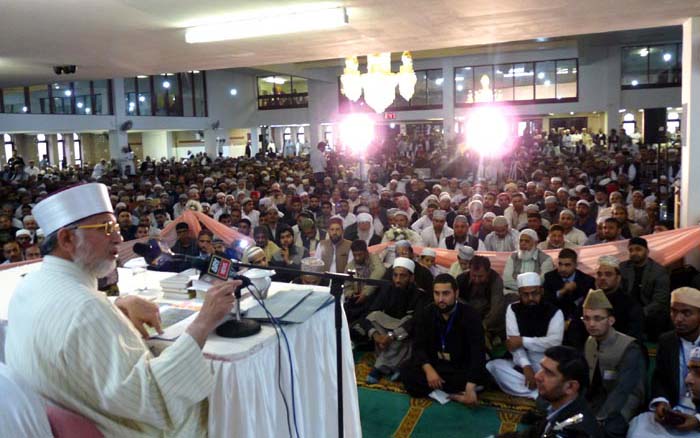 Mufakkir-e-Islam Pir Sayyid Abdul Qadir Jilani, patron of central Jamaat e Ahle Sunnat UK & Europe, addressed gathering online from Pakistan. Other distinguished speakers who spoke at the Conference included Pir Naqib-ur-Rehman, Pir Ateeq-ur-Rehman Faizpuri, Allama Ahmad Nisar Baig Qadri, Qazi Abdul Aziz Chishti, Prof Ahmad Hassan Tirmizi, Sheikh Muhammad Afzal Saeedi, Abu Ahmad Sherazi, Sahibzada Ahmad Hassan Naqeebi, Dr Naseem Ahmad, Pir Sayyid Mazhar Shah Jilani, Maulana Bostan-ul-Qadri, Sahibzada Zaheer Ahmad Naqshbandi, Allama Abdul Latif Qadri, Maulana Muhammad Yaqub Chishti and Mayor of Waltham Forest Councilor Nadeem Ali.
The speakers paid tributes to the members of UK Parliament for their rejection of a resolution calling for attack on Syria. They also condemned the American plan of launching an attack on Syria.
Speaking on the occasion, Allama Ahmad Nisar Baig said that the US had already destroyed Libya and Iraq, two Muslim countries, on flimsy pretexts which proved to be hoax later on, adding that the former tried to win the global support on trumped-up charges against these countries. He said that it had now been sufficiently proven that there were neither any weapons of mass destruction in Iraq nor were they used. But it did not stop the US from decimating the country with the support of its allies. He said that the pitiable and sorry condition Iraq was placed in today was the result of the US misadventure.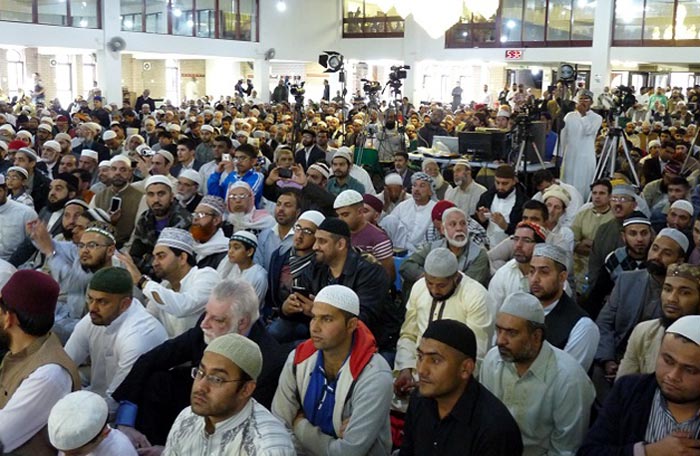 Allama Sayyid Ahmad Hassan Trimzi, former President of Jamat, said that the Conference demanded of the US authorities to stop intervening in Iraq, Libya and other Islamic countries and put an end to terrorism, extremism and killing of innocent Muslims. He said that the Muslims were peaceful community that believed in virtues of mutual respect, peaceful coexistence and policy of 'live and let live'. He said that all negative activities against the Muslims should be stopped forthwith.
Allama Qazi Abdul Latif Qadri, President of Jamaat e Ahle Sunnat UK and Europe, also addressed the conference and demanded of the UK government not to consider 'Ahmadis' as part of the Muslim community. He said that 'Ahmadis' should be considered as non-Muslims. He said that since the UK believed in values of religious tolerance, peace and mutual respect among followers of various faiths, therefore, those at the helm of affairs were requested to differentiate between the Muslims and those who did not believe in finality of Prophethood. He said that lumping them together in the fold of Islam was not correct.
Speeches were delivered in English language for the youth in which the speakers threw light on the problems facing the British Muslims. Speaking on the occasion, Raja Zahid Nawaz underlined the need of unity within the ranks of Muslims by dubbing it as dire need of the hour. He said that the Muslims also needed to close their ranks and develop collective thinking on issues and problems facing them. Sahibzada Muhammad Raza Qadri conducted the proceedings of the Conference.