Services of Farid-e-Millat lauded
By the grace of Allah (S.W.T.) and the blessings of the Holy Prophet (PBUH), Minhaj-ul-Quran International London organized "Annual Farid-e-Millat" seminar on 24th Aug 2013.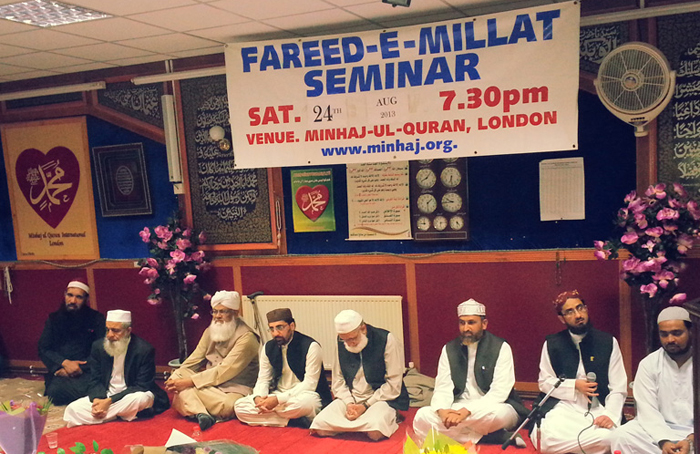 Ameer-e-Tehreek UK and ex-editor of daily Jang newspaper London, Zahoor Ahmed Niazi presided over the seminar, while a large number of people including many distinguished guests were amongst the attendees including Allama Sadiq Qureshi Al-Azhar, Naib Ameer-e-Tehreek Minhaj ul Quran International, Mufti Mujahid Choudhry from Bangladesh, Allama Qari Kashif Hussain, Qari Jamil Ahmed. Qari Mohi-us-Sunnah, grandson of Mufti Mujahid Choudhry, recited verses from the Holy Qur'an followed by Naat by Qari Jamil Ahmed and a very beautiful manqabat by Haji Aftab Ahmed (written by Muzaffar Warsi).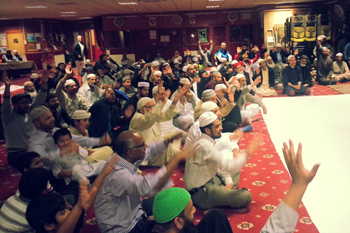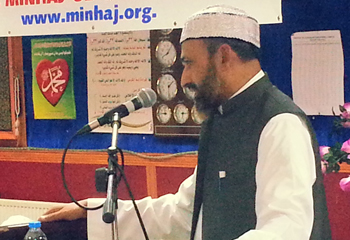 Addressing the seminar, Allama Sadiq Qureshi Al-Azhari said that the father of Shaykh-ul-Islam Dr Muhammad Tahir-ul-Qadri was a great Sufi of his time who would always seek blessings of Allah's exalted saints. He said that Farid-e-Millat was a great lover of the Holy Prophet (PBUH) whose manifested sign is his son Dr Muhammad Tahir-ul-Qadri and is the fruit of the tree of Farid-e-Millat (RA) who is now benefiting the entire world with his fragrance of knowledge. He said that the inner self of Sufi-saint Dr Farid-ud-Din Qadri (R.A) was pure and he desired for the revival of Islam in his heart. He said that it was the result of his scholarly and spiritual interest that Shaykh-ul-Islam is distributing the scholarly blessings of Farid-e-Millat in the world today. When you do zikr of Auliya, you are doing zikr of Allah and love of Auliya is actually the love of Allah because they guide us through the right path, he maintained.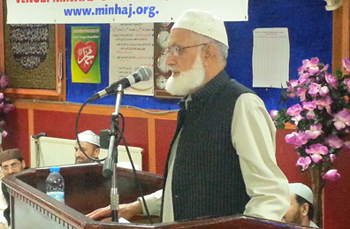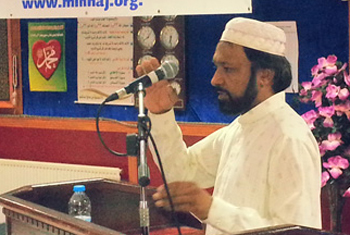 Ameer-e-Tehreek UK Zahoor Ahmed Niazi said that by paying tributes to a great Sufi of his time, we are starting our journey with renewed determination and devotion. The teachings of Farid-e-Millat are the beacon of light for the Muslim Umma by acting upon which the Umma can once again rise to its real station. In his brief talk, Zahoor Ahmed Niazi said that it was due to the prayer of Dr Farid-ud-Din Qadri that Allah Almighty blessed the Umma with Shaykh-ul-Islam who is spreading the real message of Islam in the world. They said that Shaykh-ul-Islam has played critical role in removing doubts and allegations against Islam by projecting its real teachings though various international conferences including Peace & Humanity Conference in London 2011, Peace Conference in America and issuance of Fatwa against terrorism, which was launched at House of Parliament in United Kingdom. He said Dr Tahir-ul-Qadri is striving for the promotion of peace and harmony in the world. He urged the workers and members of MQI to act upon the teachings of Farid-e-Millat in order to reform their inner selves. On the occasion of the Farid-e-Millat seminar, coverage and articles were published in all local weekly/daily Urdu newspapers to highlight his teaching and Sufism.
Reported By: Ghulam Nabi