UK: Nelson Spiritual gathering held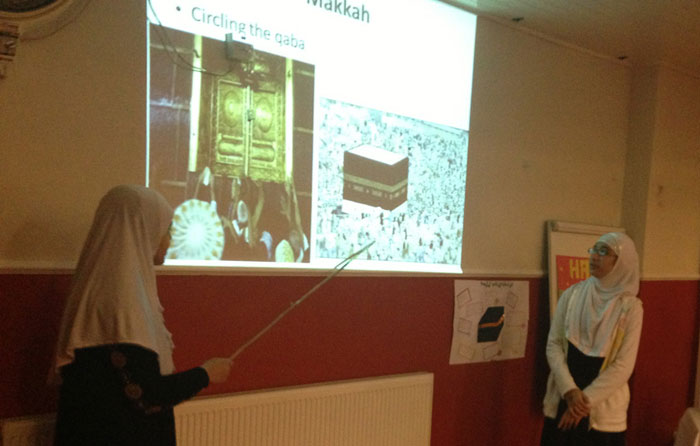 On Friday 23rd August 2013, Jamia Masjid Minhaj-ul-Quran held a small Giyarveen Sharif celebration for the young girls who attend the education centre. It was a very enjoyable day and also very enlightening programme.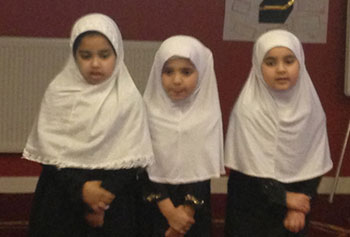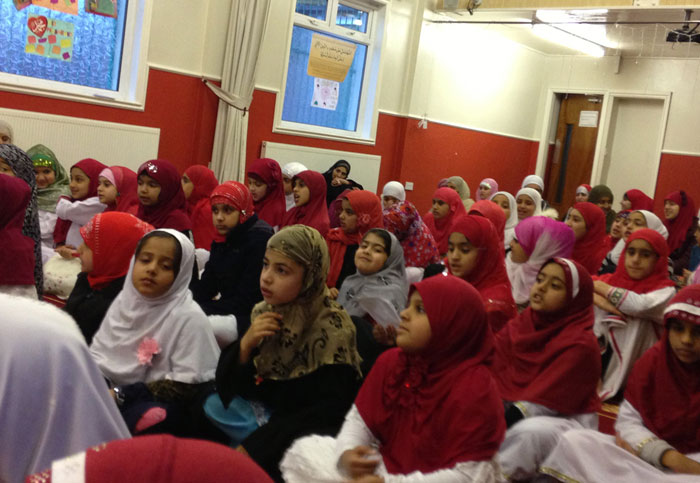 The mehfil began with recitation of the Holy Quran by Sana Hussain. Two girls, Iram Khan and Ayman then recited a beautiful English nasheed called "my mum is amazing". This was followed by a naat by Amina Ahmed. Alisha Hussain and Anam Farooq then recited praises on Allah (SWT) in the form of a Hamd about the 99 names of Allah (SWT). Salihah Anjum recited a beautiful poem and Laiba Latif recited a Naat of the Holy Prophet (S.A.W). The special guest at the programme was former student Sister Atiyah Parveen. She beautifully recited praises on the Holy Prophet (S.A.W) by reading a naat. There was then a group naat by Maryam, Mirab and Ayman. Sana Iqbal and Sadiqah Ahmed also recited praises on the Holy Prophet (S.A.W), as did Alisha Ahmed and Jasmine Ahmed. Sister Sana Fiaz, also a former student was the second chief guest of the event. She also enlightened the gathering with a beautiful naat of the Holy Prophet (S.A.W). The final naat of the programme was recited by Tooba Bilal.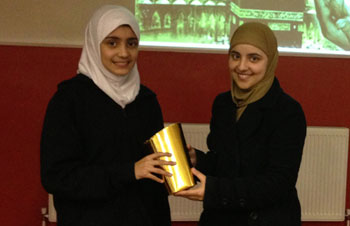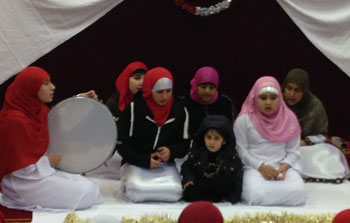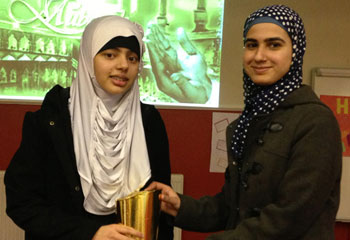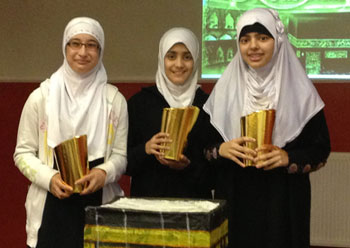 The programme also consisted of a short prize giving session. Students had been asked to design Eid Posters to mark Eid-ul-Fitr celebrations. The posters were then judged by members of staff and four winners were chosen, according to the age groups. The winners were: Noor Fatima Mirza, Zakia Iqbal, Tooba Bilal, and Alisha Ahmed. The children also enjoyed themselves by playing "Pass the Parcel". There were two winners of the game Adawiyah Fiaz and Salihah Anjum. The event was concluded with Salaam on the Holy Prophet (S.A.W) by the chief guests, Sana Fiaz and Atiyah Parveen. Dua was done by a senior student called Alisha Ahmed. Everybody enjoyed the event and congratulated the staff members for the success of the event. The children were also given goody bags at the end.
Reported by: Tahira Basharat & Naushaza Fiaz