France: Minhaj Women League holds Eid Show
Minhaj Women League France organised, on the 20th of October, its second cultural program called EID SHOW so as to celebrate Eid ul Adha festivities with everyone.The sisters presenting the programme were Mrs Ishrat Jawad, Sadia Usman and Nazia Adnan. They first welcomed the audience and started the event.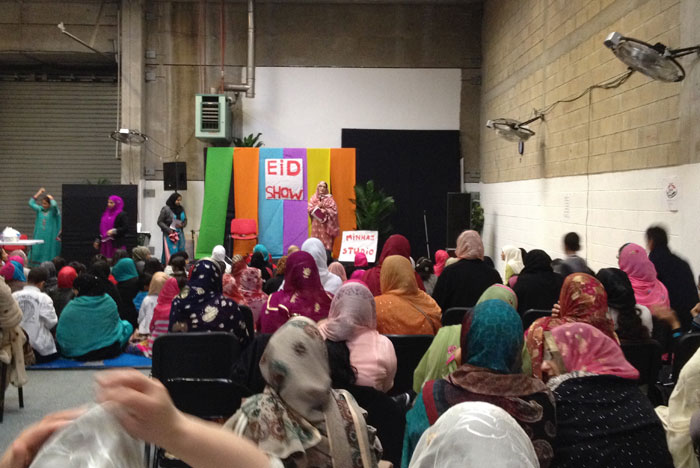 To begin the program, Sister Sabrina Tariq did the Tilawat – Recitation of a Verse from the Holy Qur'an. Then Sister Saman Ali recited a Naat – Praises to the Holy Prophet (SWS). After this Sister Farkhunda Altaf made a brief presentation to the audience regarding Minhaj ul Quran International (MQI); its creation, the aims of MQ and why should we join it. Next, we had a beautiful performance by children: ''Eid Show Live Transmission''. Aneeza played the role of the Host, Minahil was appearing as the filmstar Meera, Maryam was performing as Momo from Bulbulay and finally Khadija who was playing the role of Khubsurat from Bulbulay. The entire audience applauded the performance and enjoyed a lot as each role was played so perfectly.
We also had beautiful Qawalies by Sisters Wafia Naeem, Rabia Khawaja and group. Then a tableau by children was performed on Raheem Shah's song 'Maa'. Afterwards a short drama was presented in which an illiterate maid was receiving guests at her working place. It was presented by Sisters Sidra, Sana, Halima Sadia and Sabrina. During the program many several games and competitions (Salad Competition, Pahailee, Jokes…) were organised. Gifts were distributed to the winner of each game. At the end a big food stall opened with tasty and delicious dishes; samosas, Chana chaat, Dahi bhale, Fruit chaats, Rolls, Pizzas, Byriani, Roasts, Cakes and also Tchay (tea) was available!Many participants came to the programme which was as a joyful event appreciated by the majority.
Reported by: Sabba Kashif & Uzma Rasool