UK: Eid Millen party held Nelson
On Friday 25th October 2013, Jamia Masjid Minhaj-ul-Quran held an Eid-ul-Adha party for young students who attend the education centre. The event consisted of a mehfil and fun party games for the girls and the boys to learn about Islam and its beliefs. The female students conducted their party upstairs whilst the males held a similar event on the ground floor.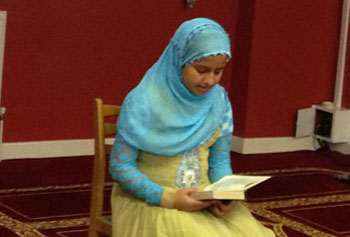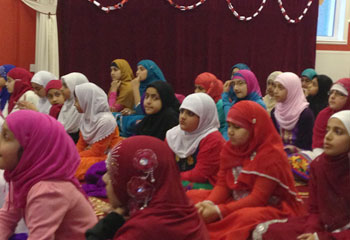 The mehfil began with recitation of the Holy Quran by Nida Ajaz, a regular contributor to the events. This was followed in the traditional with Qaseedah Burdah sharif. This was recited as a group by Fatimah Rehman, Ayman Ahmed, Iram Khan and Bismah Khanum. There was also praises of the Holy Prophet (S.A.W) by Alisha Hussain, Maheen Anjum, Zainab Iftikhar, Umme Hayya, Irtika Mehmood and Halima Riaz. All recited Naat sharif on the Holy Prophet (S.A.W) very beautifully, and made the gathering lively. Jasmine Ahmed and Nimra Khan both recited a short poem about Eid-ul-Adha, whilst Alisha Ahmed gave a talk about the Islamic festival. She explained the story behind the day and also explained about the build up to it, in regards to Hajj and the Holy Pilgrimage.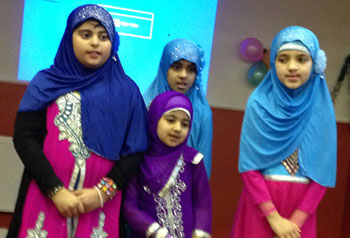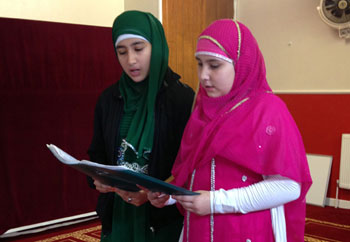 All the students then participated in a game of "pass the parcel", with many pleased to be winning treats and a gift at the end. They also prayed Salaat-ul-Maghrib with jamaat and were then treated to a meal of burgers and chips at the end. All the students were happy and pleased during the day. It was very enjoyable and many learnt a great deal about Eid-ul-Adha, whilst having fun at the same time.
Reported by: Tahira Basharat & Naushaza Fiaz