Holland: Welcome dinner for Hujjaaj & Ladies Event volunteers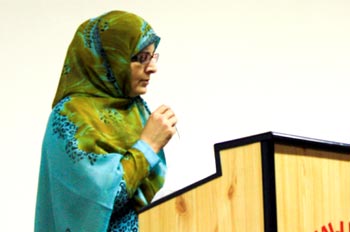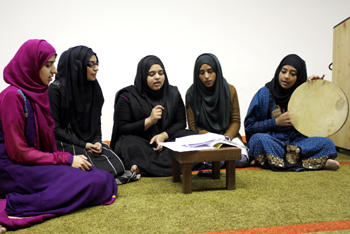 By the Grace of Allah (SWT) and his beloved Prophet (SAW), Minhaj Women League and Minhaj Sisters League (The Hague) held their second programme in the newly acquired Minhaj-ul-Quran The Hague centre.
This programme was a selective thank-you dinner for the volunteers of the previously held Minhaj Ladies Event and a welcome dinner for the recently returned Hujjaaj (pilgrims).
The programme commenced with a Quranic recitation by Ms Sajida Syed Shah followed by a welcome speech by Shabana Sarshad Ali (President MWL The Hague).
Nasheeds were then recited collectively by Nosheen Ali, Rafiah Syed, Tabinda Mahmood, Faiza Mirza and Kainaat Bint-e-Ali.
The Hujjaaj arrived one by one at the stage and were warmly received by the attendees. Felicitations and greetings were exchanged in abundance. The Hujjaaj continued sharing their Hajj experiences and the attendees got the opportunity to ask them questions. Some sisters who had performed their Hajj in previous years also shared some of their experiences. It was enlightening and inspiring to hear all their experiences. They urged the younger sisters to perform Hajj as early as possible as they found out that it was enjoyed the best in youth.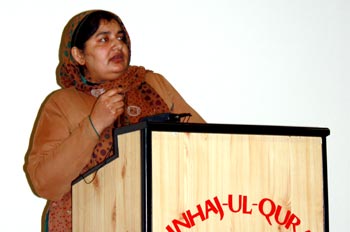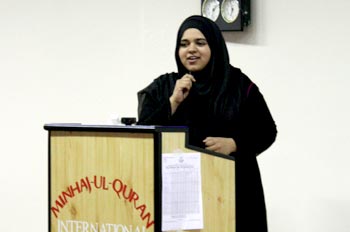 Especially for the Hujjaaj a video was then shown highlighting the many beautiful places in Makka and Madina. The video was accompanied by Quranic recitation in the melodious voice of Mishary Rashid and as it happens, tears were shed here and there.
After Asr prayer, sister Tabinda Mahmood (Vice President MSL The Hague) took to the dice and thanked the volunteers for all their efforts in making the Minhaj Ladies Event a success. She also introduced the newly formed MSL The Hague chapter and asked sister Marinah Syed Shah (President MSL The Hague) to share her thoughts as well. Sister Marinah thanked the Hujjaaj for sharing their experiences, the volunteers for all their efforts and MWL for their continued support. She also shed some light on the upcoming year planning of MSL The Hague.
Sister Tabinda Mahmood and sister Faiza Mirza (Joint-Secretary MSL The Hague) then handed out a little thank-you gift to all the volunteers. This consisted of a MQI booklet, a Shaykh-ul-Islam booklet and a Hijaab abstract alongside a rose as this was the favourite flower of our beloved Prophet (SAW). Sister Shabana Sarshad Ali also handed out roses to the Hujjaaj and gave them books written by Shaykh-ul-Islam Dr Muhammad Tahir-ul-Qadri about the Holy Prophet (SAW).
Collective Durood-o-Salaam was then recited and the programme was concluded by a collective Dua. Food prepared by MWL was served afterwards.