Dr Tahir-ul-Qadri honoured with Quaid-e-Azam Medal in US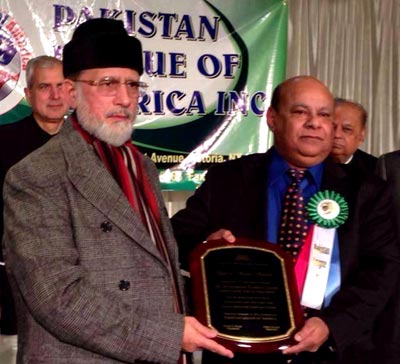 Pakistan League of America has conferred the Quaid-e-Azam Medal on PAT leader Dr Muhammad Tahir-ul-Qadri in a prestigious ceremony held in New York today. The event was attended by thousands of Pakistanis.
Speaking on the occasion, Dr Tahir-ul-Qadri said that terrorism and Mullahism were against the vision of Pakistan's founding father, Quaid-e-Azam Muhammad Ali Jinnah. He said that putting an end to both offered solution to the raging problems that the country had been confronted with for many decades. He said that the legislatures were extension of family fiefdom, while the present system in place was a fraud and eye-wash.
Dr Muhammad Tahir-ul-Qadri said that the existing system was not representative of aspirations of the masses. He said that the government had failed to discharge its fundamental responsibilities in accordance with the constitutional provisions of Articles 8, 38 and 40, adding that it was peaceful, democratic but comprehensive change that Pakistan needed to come of plethora of challenges at internal and external fronts. He said that revolution espoused by him was based on the imperatives of these three Articles of the Constitution enumerated above. He said that his revolution would be entirely peaceful and green and none would be armed during the phase of struggle.
Dr Qadri said that Pakistan was a classic example of one-family rule and domination by the vested interests. He said that at a time when all plots were about to end in Lahore, the administrative jurisdiction of the Lahore Development Authority had been extended to other areas under the supervision of the Chief Minister of Punjab.
---
Full Speech
Short Speech
Online Media Coverage