Former Global Trustee of United Religious Initiative briefed about MQI work during her visit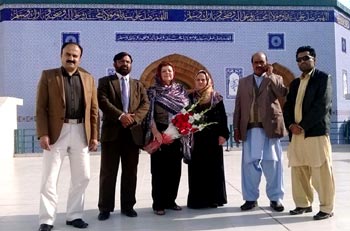 Ms. Anne V. Roth, former Global Trustee of the United Religious Initiative USA, visited the central secretariat of Minhaj-ul-Quran International on December 14. Sohail Raza, Director Interfaith Relations of MQI, Sayed Amjad Ali Shah, Director MWF and the secretariat staff welcomed the respected guest on her arrival.
Ms. Anne Roth was conducted to different departments of Minhaj-ul-Quran secretariat. She was briefed about working of various departments. She also visited Minhaj Welfare Foundation where Syed Amjad Ali Shah and staff welcomed her and briefed about the network and activities which are being done under the banner of MWF. She was told about the scope of welfare activities for the poor and needy people in Pakistan as well as other parts of the world.
In a special briefing, Sohail Ahmad Raza briefed Ms. Anna about work, functions and role MQI and its leader Dr Muhammad Tahir-ul-Qadri were playing to promote peace, interfaith dialogue and harmony in the world. He said that Dr Qadri was projecting real teachings of Islam and removing confusion. Referring to various initiatives taken by MQI, he said that Dr Qadri was building bridges among various cultures, faiths and civilizations on a shared set of values of brotherhood and peace. He said that Dr Tahir-ul-Qadri exposed people on both sides of fringe who were busy propagating violence, sowing seeds of hatred and bringing fair names of their respective religions into disrepute.
Ms. Anne thanked to Sohail Raza and Syed Amjad ALi and she said she has never seen such an organization where all these departments are working in such a synergy under one leadership on the basis of self-help without any agency from any organization and government.