Mail Online India: Srinagar prepares for visit from Pakistani cleric Qadri
By NASEER GANAI
Come January 19, one of Pakistan's most vocal detractors of the Taliban will arrive in Kashmir.
The visit of Muhammad Tahir ul-Qadri comes amid fears of the militia movement's imminent arrival in the Valley following the US drawdown in Afghanistan this year.
The Canada-based scholar, who first made headlines last year via his generously attended rallies demanding electoral reform ahead of Pakistan's general elections, will also be addressing a rally at the Hazratbal Shrine in Srinagar on January 20, members of his Minhaj-ul- Quran International (MQI) said.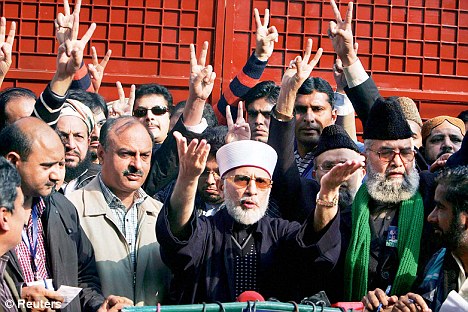 Muhammad Tahir ul-Qadri (in white cap) is one of Pakistan's most vocal detractors of the Taliban
"He will be in the Valley for three days, January 19, 20 and 21," Kashmir divisional commissioner Shailendra Kumar added.
"We will be providing security for his rally at Hazratbal," he said.
Kumar was adamant, though, that the Jammu and Kashmir government is not involved in Tahir's visit in any way.
"We will only provide him security cover and lodging because he is a scholar of international repute, we would be providing necessary security for the rally and lodging for him. Beyond that the government has no role," Kumar said.
"We have put in place necessary arrangements for the rally. He is a famous Islamic scholar, so we expect a huge turnout," said Srinagar deputy commissioner Farooq Ahmad Shah.
During his visit, Tahir is likely to host various deputations of local clerics and imams, besides addressing the members of the MQI's Kashmir unit at the Sher-i-Kashmir International Conference Centre (SKICC) on the bank of the Dal Lake.
Source: http://www.dailymail.co.uk/indiahome/indianews/article-2534284/Srinagar-prepares-visit-Pakistani-cleric-Qadri.html#ixzz2pbHd8eif
Source : http://www.dailymail.co.uk/indiahome/indianews/article-2534284/Srinagar-prepares-visit-Pakistani-cleric-Qadri.html