Pakistan-Iran should unite for regional peace: Dr Qadri to Iranian News Agency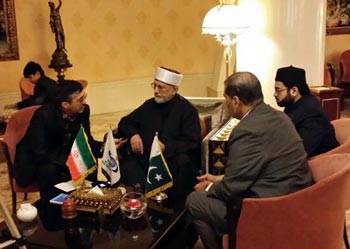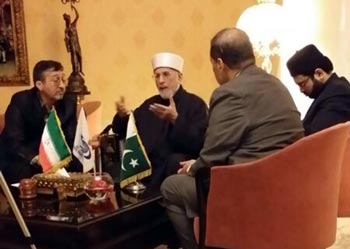 On 17 February 2014 Pakistan Awami Tehreek (PAT) Chairman, Shaykh-ul-Islam Dr Muhammad Tahir-ul-Qadri spoke to the Iranian national news agency, FARS. The interview focused on Islam and terrorism and the root causes of sectarianism, and the eradication of radicalism. Dr Qadri said that the different schools of thoughts within Islam should cooperate and adopt the path of moderation and peace in order to eradicate religious extremism of all kinds, and work towards Muslim unity.
Dr Qadri added that the 'madrassa system' does not teach unity and does not teach that differences within the religion (Deen) are not only acceptable, but also reflect the beautiful diversity within Islam. Instead, the madrassas portray the differences within Islam as competing elements, which is not the case. Madrassas preach purely exclusivity, and accuse others of being unbelievers (kafir) etc. which is against the teachings of Islam.
Shaykh-ul-Islam said that it is important that all the various schools of thoughts and their institutions read each other's books and concentrate on those areas where there is consensus and not on the differences. He urged that we should not insult or disrespect each other, nor throw each other out of the ambit of Islam. Even if one looks at the time of the companions (Sahaba) they had differences in their interpretation (tafseer) but this did not become a cause of resentment. Indeed we need to have better interaction with each other and hold united conferences to bring us closer together instead of going apart, he added.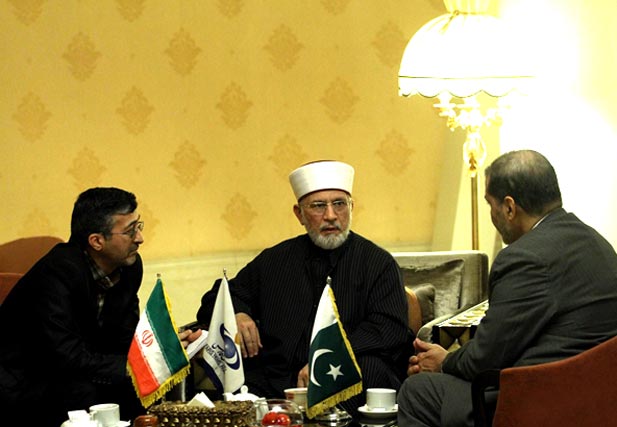 Dr Qadri added that we should encourage open discussions between different scholars (ulema) and between students. They should listen to each other directly to help eradicate radicalism and increase moderation.
Dr Qadri said that the younger generation is moving away from Islam as they become disillusioned with the atmosphere created by sectarianism. When they see Muslims call each other unbelievers they begin to hate this way of thinking. Our prime focus should be to educate the younger generation with Islam's moderation and the progressive teachings of the Holy Prophet (saw). That is the mission and one of the primary aims of Minhaj-ul-Quran International - to create a platform from which all Muslims can be united in the path of moderation and progressiveness.
Pakistan-Iran relations
The chairman of Pakistan Awami Tehreek (PAT) Dr Muhammad Tahir-ul-Qadri commenting on Pakistan-Iran relations said that both Pakistan and Iran had enjoyed ancient links pre and post partition. He stated that on behalf of Pakistan he brings a message of peace and unity. Although there are major problems of terrorism and radicalism in Pakistani, the majority of the Pakistani nation is moderate and desires peace and unity. He added that Pakistanis want to have secure trade routes and links with Iran. The two countries have joint borders with each other and with Afghanistan, and so they can protect their borders together if they were to come closer in cooperation. The majority of the people of Pakistan want this togetherness - just as at one point Pakistan was close to Turkey. We have joint interests and it is important that Iran and Pakistan become closer both politically and socially. "If we can create better relations between us and Afghanistan then we can create a great triangle that can help in eradicating terrorism," he added.
Dr Qadri said, "It is important that our political leaders come closer and I am ready to play any humble service that may be required to bring the two countries closer together, which is important for the future of the Muslim ummah. Together Pakistan and Iran can play a great role if only they draw closer to each other on every level." He said that is why he has come to Iran with a message of peace and unity on behalf of the people of Pakistan.
Dr Qadri emphasized the importance of Pakistan-Iran relations and said that he wants to see Pakistan and Iran as two brothers from the same mother and he wants Pakistan and Iran to have free trade zones, to have a joint defense policy and mutual affiliations of their universities.
Dr Qadri said, "We need to eradicate poverty in our countries, establish the rule of law, give prosperity to our nations,and create great academic and social Institutions. After that, no outside force can ever be successful in dividing our nations and creating enmity. If the nation is happy with the government, giving justice and equity to its people, and the democratic institutions strong, then no internal or external force can do anything to such a nation."
In conclusion, Dr Qadri said he wanted to congratulate the Iranian leaders and the nation that despite 35 years of sanctions they have still kept their country strong and prosperous. They have unity and have courage and the nation is alive and strong. "I congratulate the leaders and people of this country for their bravery and strength in times of adversity by maintaining their national pride and unity within their country", he said.
Online Media Coverage