UK: Annual Milad Conference held in Halifax
On 18th January 2014, (16th Rabi ul Awal), an amazing Milad Conference took place in Halifax. The programme was organized by Minhaj Women League and Youth Sisters of Halifax. The programme was attended by 550 women and young girls.The proceedings of the programme were conducted by Sister Nahid, MWL President and sister Iffat, General Secretary. They quoted references from Shaykh ul Islam's talks on Mawlid, and Hadith of the Prophet (SAW).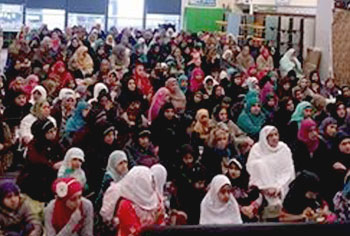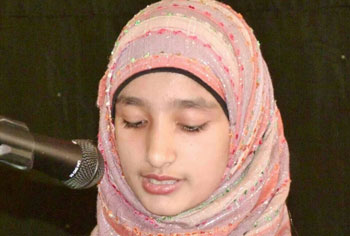 The programme began with the Quranic recitation, Qaseeda Burda Sharif and Naats recited by both women and youth sisters. This was followed by the audience listening to a recorded lecture by Shaykh-ul-Islam Dr Muhammad Tahir ul Qadri called 'Why to Celebrate Milad-un-Nabi (SAW)?'There was question and answer session led by Sister Nasim, Senior MWL UK member. The winners received CDs by Shaykh-ul-Islam.Next Sister Khadijah Atkinson, MWL UK Executive from London, gave talk in English and focused on the issues faced by the youth sisters, and the importance of the role of the mother in the upbringing of children. She also highlighted the need for using the social networking sites appropriately. The talk inspired all youth sisters and mothers. The programme continued with Sister Zureena from Walsall doing an Urdu talk on the life of Prophet Muhammad (SAW), and the importance of celebrating Mawlid. She also put light on the Prophet's (SAW) character and manners, and encouraged all to follow this. The talk inspired and touched everyone's hearts immensely.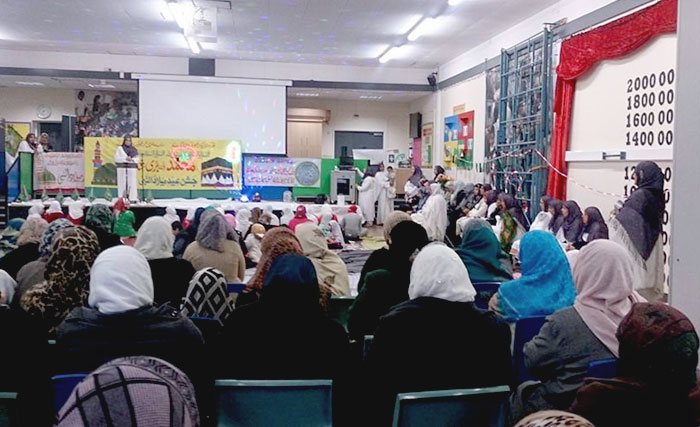 Next part of the programme was led by Sister Jamila, MWL UK Finance Secretary. She explained the Education City Project and its benefits for the future of youth and MWL Halifax managed to raise £750 at the programme, as well as an extra £250 after the programme. Now Sister Rozina, MWL UK Dawah secretary, explained the work on Minhaj Dawah Project and introduced the new books, and CDs by Shaykh-ul-Islam. All attendees listened attentively. Next sister Shaila, MWL Media secretary Halifax, shared the work of Minhaj Women League done in Halifax, and the activities happening regularly at the Minhaj centre in Halifax for Women Youth and young girls. The entire programme had intervals of Naats being recited there. Naat participants were Sister Safina, vice president MWL Halifax, Sister Sajida MWL Halifax Dawah secretary, Sister Robina, Sister Rehana, MWL Halifax Welfare Secretary, sister Shaheen, membership secretary, Sister Iffat, General Secretary and many more women participated.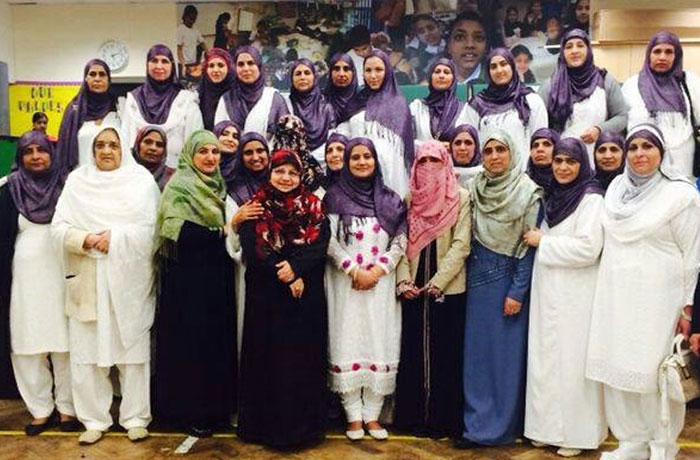 The Minhaj Youth Girls (Halifax) recited a touching nasheed and the young girls from Minhaj Sunday class run by Sister Shaila recited naat in a group. The Programme was also attended by Sister Mussarat, MWL UK General Secretary Walsall. Upton 200 Minhaj Introduction packs were given to attendees, along with Youth sisters encouraging attendees on selecting books / CDs from book stalls. The programme concluded with Dua and Food.
Reported By: Shaila Perveen & Nahid Shahid