Birmingham: Appreciation certificate conferred on Minhaj Dawah Project Team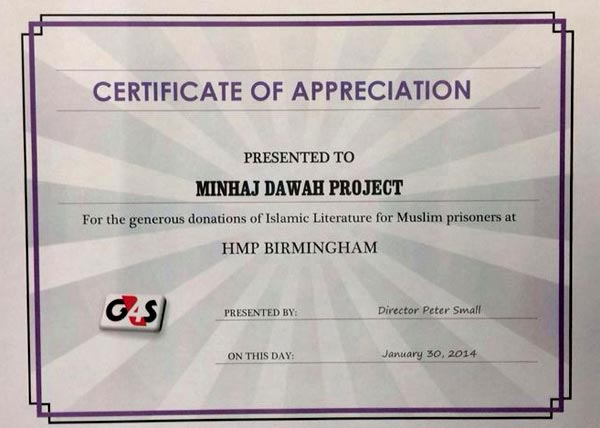 The management of HMPJail Birmingham has conferred an appreciation certificate on Minhaj Dawah Project for its services to meet educational, religious needs of the Muslim jail inmates. It is pertinent to mention here that Minhaj Dawah Project team had been supplying the books and DVDs of Shaykh-ul-Islam Dr Muhammad Tahir-ul-Qadri both in Urdu and English languages for moral, social and psychological training and rehabilitation of the Muslim jail inmates for a long time. A large number of prisoners have benefitted from the literature. Noticing mentionable improvement in the attitudes of the jail inmates after study of these books, the management of HMP Jail gave away appreciation certificates to the Dawah Project team to acknowledge their services. The management expressed the hope that this experiment would be replicated in other jails as well.
Speaking at the ceremony held to award the certificate, Ijaz Ahmad Shami, the Imam of Mosque located in Birmingham jail, said that books authored by Dr Tahir-ul-Qadri were full of love, and compassion and enlightened the readers about Islamic concept of love, peace, tolerance and moderation. He said that the activities undertaken by Minhaj Dawah Project team were instrumental in bringing about positive change in the conduct of the jail inmates.
In his response at the occasion, Arshad Aziz of Minhaj Dawah Project said that the efforts of his team were selfless and for sake of Allah's pleasure. He said that they would continue to make efforts for rehabilitation of the unfortunate people in accordance with the training imparted to them by their leader Dr Tahir-ul-Qadri.