Denmark: Mawlid un Nabi Conference Odense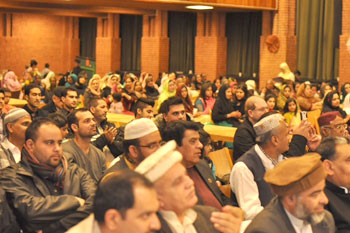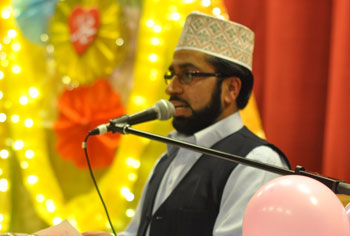 By the grace of Almighty Allah and the Holy Prophet Muhammad (Sallallahu 'alayhi wa Alihi wa sallam), Minhaj-ul-Quran International, Denmark (Odense) organized Mawlid-un-Nabavi Conference.
The programme started with the recitation of the holy Qur'an by Shahid Riaz in a beautiful voice. Shoiab Riaz presented manqabat. Minhaj Youth (Sisters) Maryam Mughal, Isma Shah, Maria Shah, Iram Sheikh, Sarah Yousaf, Haleema Khan, Zunaira Khan, Amara Muzaffar, Rabail Mughal, Hafsa Mughal, Nisaa Yousaf & Zaryab Sheikh recited nasheed in the honour of the Holy Prophet (SAW). Zulqarnain, Raja Akbar, Akhtar Cheema and Muhammad Abbas also had the honour of presenting naat.
Sarah Yousaf, Rabail Mughal, Nina Rabia Shah, Umar Butt, Abdullah Butt, Anas Butt and Muhammad Ahmed Khan delivered speeches regarding various aspects of the blessed life of the holy Prophet (SAW). The keynote speeches were given by Hafiz Nadeem Younis (Director of Minhaj ul Quran, Odense – DK) and special guests from Århus and Masjid al Noor, Odense, Hafiz Awais Naeemi (Director of Masjid al Noor, Odense – DK). The event also included a short quiz game, which Imam Nadeem Younis conducted presented so beautifully. Gifts were given during the quiz, and a lucky couple won a ticket for Umrah.
Least but not last Shama Butt decorated the beautiful stage for Mawlid programme. May Allah Almighty bless her & reward her for this. On the ending note, Director of Minhaj ul Quran, Odense gave the message of Minhaj ul Quran International and urged sisters and brothers to join Halqa e Duroods, to spread love of our Beloved Prophet Muhammad (Salla Allahu 'alayhi wa sallam) everywhere, in our homes, mosques, everywhere.It was a very successful programme. It ended with du'a . There was an arrangement for food as well.
Reported By: MQI Denmark