Dr Hasan Mohi-ud-Din Qadri speaks at World Economic Forum 2014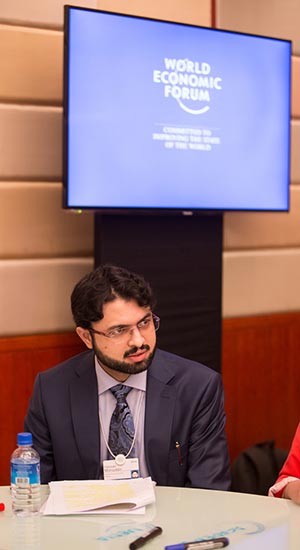 Dr Hasan Mohi-ud-Din Qadri, Chairman Supreme Council of Minhaj-ul-Quran International, attended the World Economic Forum 2014 held in Manila, Philippine. He took part in three sessions. He exchanged views with government officials, ministers, renowned leaders & presented suggestions in three of his sessions. The details follow:
The topic of the first session was DESIGNING SOLUTIONS TO DISRUPTION: CIVIC ENGAGEMENT AS A WAY FORWARD. In this session, the Chairman Supreme Council of Minhaj-ul-Quran International rendered his views towards future integration in Asia. He also put forward various ideas via technical discussion regarding economic & social future of the ASEAN region as its 1 year GDP will reach 2 trillion dollars.
Dr. Hasan also shared his views regarding how inequalities have grown to unacceptable levels and emphasized on revolutionary new ways of thinking through problems. Dr. Hasan also emphasized the importance of community supported governance approach towards constructive solutions, and tackling environmental degradation, corruption, inefficiency, and concentration of power in the elites. He also threw light on future outcomes alongside its solutions. He highlighted the imperative of involving citizens in governance affairs in a result oriented manner.
The topic of the second session was LEVERAGING GROWTH FOR EQUITABLE PROGRESS. In this session Dr Hasan Mohi-ud-Din Qadri quoted various references in the areas of sociology, economics and politics. He elaborated on injustice perpetrated by the elites on the less privileged, which he said, is a major hurdle towards global prosperity & has resulted in double inequality in the last few decades between the developing and developing world, which has given rise to injustice.
Dr Hassan also elaborated on the idea of a new social contract as a dire need of the hour and highlighted as to how it will serve humanity better. In this session he discussed growing economic aspects and quoted various references of economic theories and reports by IMF & World Bank. The political perspective of the session was discussed by Dr Hasan Mohi-ud-Din Qadri quoting the 1973 Constitution of Pakistan and how it was based on Islamic principles which prioritize social justice and human rights. He also elaborated on Articles 25-39 as embodiment of the State's obligations to the people. He said that various governments have fulfilled these commitments only fitfully, and with insufficient commitment—but their obligation remains.
Dr. Hassan also mentioned and stressed upon what Islam offers, in myriad ways, an elegant middle path between the misplaced idealism of utopian communism & that some of the worst inequities of unrestrained capitalism. He also explained that, there is a need to adopt best practices, regardless of their ideological or theological origins.
The third session was entitled TRANSPARENCY FOR GROWTH AND INCLUSION. In this session Dr Hasan Mohi-ud-Din Qadri emphasized on the dimensions of transparency, saying that transparency and accountability are vital fundamentals for good governance. He said that transparency requires a variety of credible information flows to enable correct assessment of the performance of public representatives and government functionaries.
Dr Hasan Mohi-ud-Din Qadri also quoted The Extractive Industries Transparency Initiative (EITI), The IMF & Its Guide on Resource Revenue Transparency in support of his thesis. He also recommended that national and multinational businesses must also create a climate of openness and accountability within. Ideas must be converted into effective action through workable mechanisms.