PAT and PML-Q agree on 10-point revolutionary reform agenda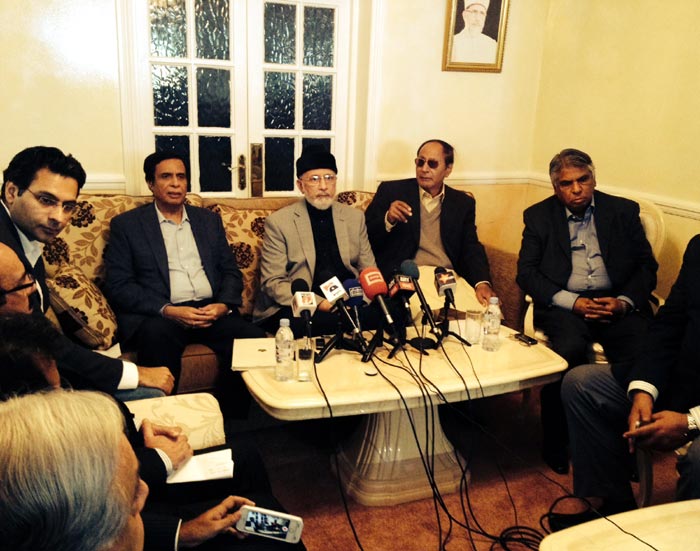 Pakistan Awami Tehreek (PAT) leader Dr Muhammad Tahir-ul-Qadri has said that he would be coming to Pakistan in June than in July as previously announced. He said that the current obsolete and corrupt system had failed completely to resolve people's problems. He said that the present governments came into being as a result of rigged elections that were presided over by an unconstitutionally composed Election Commission, adding that the establishment of new people's democratic government had become inevitable. He further said that Pakistan Awami Tehreek (PAT) and Pakistan Muslim League-Q have agreed on a joint communiqué and accordingly both parties had decided to reach out to all religious and political forces of the country for change in the system and implementation of 10-point reform agenda. PML-Q leader Chaudhry Shujaat Hussain and PAT leader Dr Hassan Mohi-ud-Din Qadri would soon start their work on this count, he said.
Dr Tahir-ul-Qadri made these remarks while addressing a joint news conference in London along with PML-Q leaders Chaudhry Shujaat Hussain and Chaudhry Parvez Elahi. The leaders of both parties signed the joint communiqué at the occasion.
Expressing his views, Chaudhry Shujaat Hussain said that power would be devolved to grass-roots after their coming into power. He said that reforms would be introduced in revenue, police and local administration departments and decades-old Patwari culture would be done away with. Both leaders of PML-Q said that they supported Dr Tahir-ul-Qadri's agenda, adding that the revolution would be against oppression and corruption. The 10-point reform agenda was also issued at the occasion.
Joint Communiqué
Present obsolete and corrupt political, governmental, administrative and electoral system has completely failed in giving rights to the people of Pakistan as per commitments contained in the Constitution, making them shareholder in power in real terms and resolving their basic problems.
The present governments, which were established as a result of illegal and fraudulent elections based on duress, rigging and wealth held under unconstitutionally constituted Election Commission, are completely unconstitutional and illegal.
Real democracy does not exist in Pakistan at this time. Rather there is political authoritarianism and family dynasty in place in which people are deprived of basic necessities of life such as food, residence, clothes, education, medical treatment, water and electricity.
In these circumstances, there is a dire need that all patriotic political forces and segments agree on a broader revolutionary agenda and wage joint struggle for establishment of transparent and participatory democracy in Pakistan in the real sense.
Establishment of governments at ward, village, union council, Tehsil and district levels has become inevitable to eliminate concentration of wealth and resources in Pakistan and to deliver justice and rights to the people at their door-step so that executive, political, administrative, and financial authority and responsibilities are delegated to people's representatives at the grass-roots in line with Article 140 of the Constitution of Pakistan.
Establishment of a new revolutionary, people's government has become inevitable for fulfillment of rights in accordance with the commitments and pledges contained in the Constitution and resolution of basic problems of the masses. This government will preside over a transparent accountability and strengthen the national and constitutional institutions and provide following rights to the masses immediately in accordance with Articles 3,9,11,37, 38 of the Constitution:
Every homeless will be given a home. Every homeless family will be given 3/5 marla residential plot for free. They would be given interest-free loans for the construction of these houses which would be returnable from 20 to 25 years. Those families, who do not have financial means to return these loans, would be handed over keys of constructed houses.
Every person would be given employment or employment allowance. The youth would be helped in career counseling and planning for their jobs. The practice of making them beggars, indebted or loan defaulters would be discouraged and discontinued.
Those having monthly income of less than Rs. 15,000/20,000 would pay half of the real amount on flour, rice, milk, cooking oil, sugar, and plain clothes.
All taxes will be eliminated from the gas, water and electricity bills for lower middle class and they would be required to pay half of the exact amount of these utilities.
Official insurance scheme would be introduced and the poor would get free medical treatment.
Education up to matriculation will be free and the parents would not be able to keep their children deprived of education. The students desirous of higher education would be given opportunities to do so and their admission will be ensured as per merit.
Pakistan's total area is 200 million acres. Out of which 100 million acre is cultivable. The half of this land is under private ownership while the remaining 50 million acres would be distributed among the poor.
Sectarianism, terrorism and extremism will be eliminated. Ten thousand peace training centres will be opened for training of the people. Syllabi of religious seminaries would be revised and amended.
The women will be given opportunities for respectable employment in the form of domestic industrial units. They will be given complete socio-economic security by doing away with discriminatory laws.
Disparity in the pay structures of all senior and junior public and private sector employees will be minimized to possible extent.
Resources will be arranged from the following sources for implementation of the above-mentioned revolutionary agenda:
Austere conduct of government
Elimination of corruption
Broadening the tax net, bridging tax leakages and controlling tax evasion
Mineral and petroleum resources available in Pakistan
Provision of constitutional guarantee to the foreign investment
Development of the country's industry/business/commerce through facilitation and concessions
Demonstrating their complete consensus on the above-mentioned executive and administrative devolution plan and 10-point revolutionary, people's agenda, Pakistan Muslim League and Pakistan Awami Tehreek have agreed to reach out to and enlist the support of patriotic political forces and segments and launch countrywide revolutionary movement.