Dr Hassan Mohi-ud-Din Qadri visits Bangladesh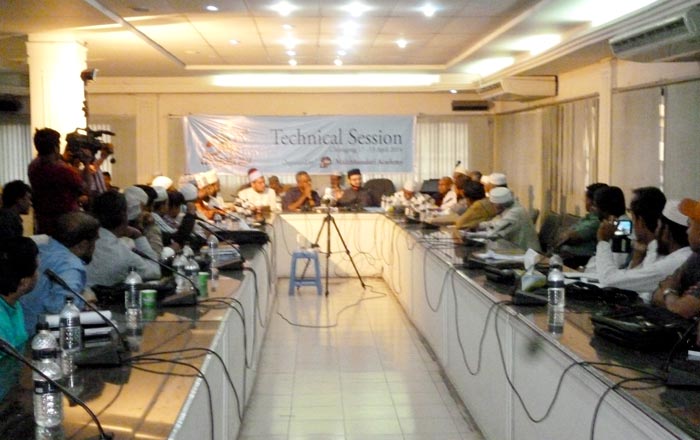 Minhaj-ul-Quran International, being a worldwide organization working for promotion of peace, interfaith dialogue, harmony and real Islamic teachings, has a sprawling network in Bangladesh as well. In April, Dr Hassan Mohi-ud-Din Qadri, President of MQI's Supreme Council, visited Bangladesh. He addressed a number of conferences, workshops, spiritual gatherings and seminars during his stay there. The brief details of the visit are given below:
Dr Hassan Mohi-ud-Din Qadri reached Bangladesh on April 16, 2014 to attend three-day Sufi Conference on the invitation of Mias Bhandra Academy. Workers of MQI (Bangladesh) led by Muhammad Ali gave him a warm welcome on his arrival at the Dhaka airport. Later on, he left for Chittagong. On reaching there at the airport, Meezan-ur-Rehman, Amir-e-Tehreek and Muhammad Abul Kalam, Secretary General of MQI (Bangladesh) warmly received him.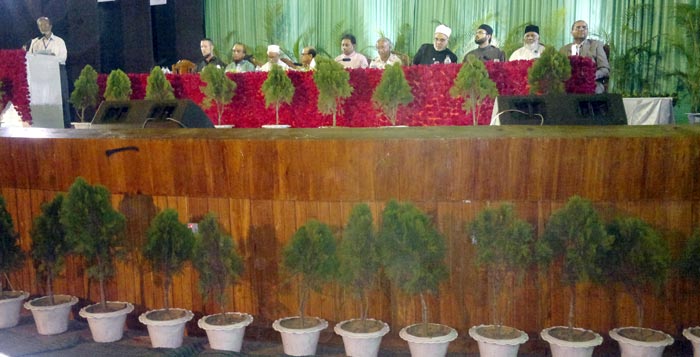 The prestigious Sufi Conference opened on April 17. Dr Hassan Mohi-ud-Din Qadri attended the inaugural ceremony of the Conference along with Meezan-ur-Rehman and Abul Kalam. Syed Hassan hosted and conducted the proceedings of the Conference. The moot was attended by Abu Baker Siraj-ud-Din Kok (Tasmania University, Australia), Dr Gomal Farooq (Al-Azhar University, Egypt), Dr Naji Rasheed Hassan-ul-Araabi (Bahrain University), Sheikh Abu Baker Ahmad (General Secretary All-India Sunni Jumiat-ul-Ulama), Dr Muhammad Khan Malik (University of Engineering Lahore), Dr Hussain Muhammad Saqafi (India), Prof Dr Iftikhar-ud-Din Chaudhry (pro-vice Chancellor, University of Chittagong), Dr Ghalib Ahsan Khan (University of Dhaka), Maulana Muhammad Bakhtiar-ud-Din, and Dr Jasim-ud-Din Ahmad.
Dr Abdul Manan, chairman of the Conference, and Sufi Meezan-ur-Rehman delivered short speeches at the inaugural session of the Sufi Conference. Dr Hassan Mohi-ud-Din Qadri gave a thought-provoking, argumentative and meaty address on the subject of spiritualism in English language. The scholars and intellectuals attending the Conference were stunned by the depth of his knowledge and grasp of the subject and engaging way of delivery. They expressed the hope that Dr Hassan was a rising star in the realm of knowledge and like his distinguished father, he would benefit a whole world with his knowledge. Later on, he addressed an exclusive gathering of women as well.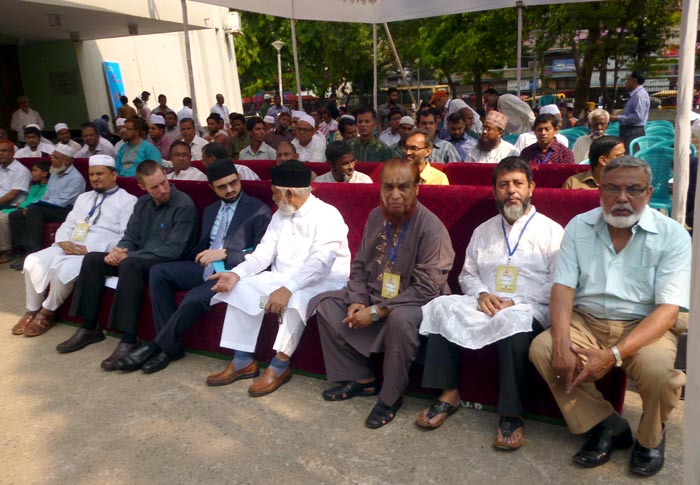 On the second day of the Conference on April 18, Dr Hassan Mohi-ud-Din Qadri visited the shrine of Maizbhanderi and paid his respects there. The hundreds of disciples and followers of the shrine gave a very warm welcome at his arrival. He also had an opportunity to pay his respects at the shrines of Hazrat Ghaus-e-Azam
Ahmed Ullah al-Maizbhanderi, Hazrat Ghulam-ur-Rehman al-Maizbhanderi, Hazrat Dilawar Hussain al-Maizbhanderi, and Hazrat Zia-ul-Haq al-Maizbhanderi. Later on, Dr Hassan Mohi-ud-Din Qadri attended the Mehfil-e-Sama hosted by Sufi Meezan-ur-Rehman and delivered a talk on morality and spiritual training.
Dr Hassan Mohi-ud-Din Qadri presided over the technical session of the Conference on the third day on April 19. He gave his comprehensive talk on the topic of 'Walaya' at this occasion. Renowned scholar, Shah Alam Wairtham, reached the venue to deliver his concluding address at the Conference. Intellectuals, scholars, writers, Muftis, and opinion leaders from across Bangladesh and abroad were present to listen to this keynote speech which lasted for one and half hour.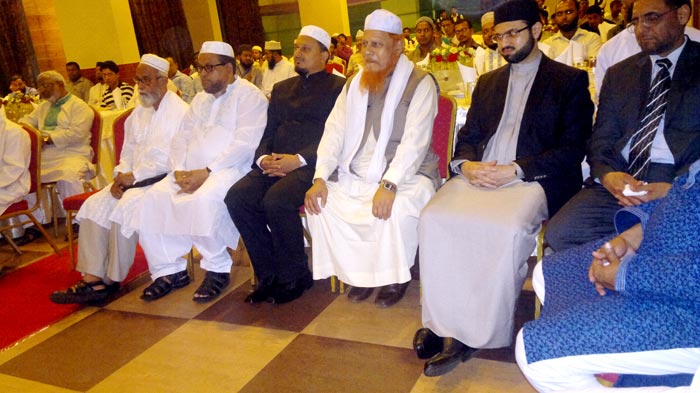 On April 20, Dr Hassan Mohi-ud-Din Qadri visited the shrine of Dar-ul-Huda. Gaddi Nasheen Sufi Wilayat Hussain Qadri welcomed him on his arrival. The matters of mutual interest including work and contributions of MQI came under discussion in the meeting. Sufi Meezan-ur-Rehman expressed his desire of converting the seminary there into MQI Centre. Later on, Dr Hassan also had meetings with the Gaddi Nasheens of shrines of Maizbhandara and exchanged matters of mutual interest with them.
During his visit, Dr Hassan Mohi-ud-Din Qadri took time out to visit MQI centre and held a meeting with office holders, workers and associates. Dr Muneer Ahmad, MQI President and Abul Kalam introduced the workers individually. He delivered a short speech to the attendees. Abul Kalam and Zia-ur-Rehman thanked Dr Hassan on behalf of the workers for paying a visit to MQI centre.
Dr Hassan Mohi-ud-Din Qadri flew back to Dhaka after his engagements in Chittagong were over. Sufi Meezan-ur-Rehman and Muhammad Ali had arranged his meetings with influential people. Dr Hassan held meetings with these people and exchanged views on various topics.
On April 21, the President of MQI Supreme Council left for Pakistan after concluding his successful visit to Bangladesh.