Special ceremony held for 'Esal-e-Sawab' of Dr Danish's mother
Minhaj-ul-Quran International (France chapter) organized a ceremony for 'Esal-e-Sawab' of late mother of ARY anchor Dr Danish at MQI Cultural Centre on June 8. MQI leaders and workers attended the ceremony in large number. Malik Shabbir Ahmad, Salman Aslam, Tanvir Gulzar, Chaudhry Muhammad Ashraf, Bilal Butt, Sifyan Ahmad, Umair Ashfaq, Zaheer Abbas Gujjar, Hafiz Iqbal Azam and others were also present. PAT central President Sheikh Zahid Fayyaz was also present at the occasion.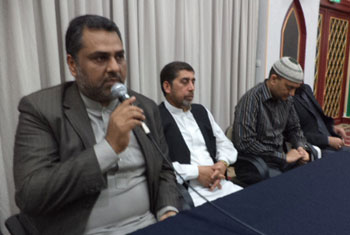 The proceedings of the programme got underway with the recitation of the Holy Quran followed by Naat. Speaking at the occasion, Sheikh Zahid Fayyaz said that late mother of Dr Danish was a pious and God-fearing lady. He said that it was the influence of her training that her son, Dr Danish, was able to call spade a spade and question the high and mighty without any fear or favour. He prayed to Allah Almighty to elevate the status of late mother of Dr Danish.
Following talk by Sheikh Zahid Fayyaz, collective Durood-o-Salam was presented in the court of the Holy Prophet (SAW). The programme ended on special Dua.