UK: Speakers at PAT moot decry government for human rights violation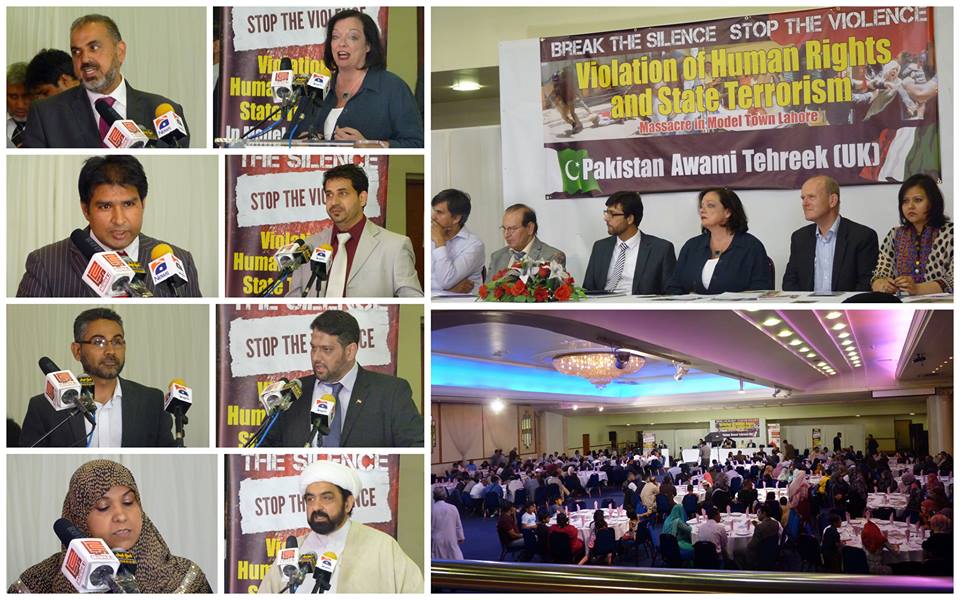 Pakistan Awami Tehreek (UK chapter) organized a seminar on the subject of "Human rights violation and state terrorism" in the backdrop of the Model Town tragedy. The event grew into a multiparty conference attracting wide-ranging representation from almost all political parties, community members, group of solicitors and a large number of local communities.
The prominent personalities who attended and spoke at the seminar included Haroon Rathore (president Pakistan Awami Tehreek), Lord Nazir Ahmad, MP Lyn Brown, Shagufta Nasreen (Palestine Solidarity Campaigner), Raza Kazim (Islamic Human Rights Commission), Ashraf Hussaini (Ahle Bait TV), Munir Ahmad (Labour Councilor), Starah Anjum (Labour Councilor Ealing), Mrs. Jabeen Naveed (PAT), Shahid Iqbal (Zonal Vice President), Mubashar Sohail (Zonal vice President), Shahzad Nadeem (Spokesperson PAT), Ahmad Sherazi (Senior vice president PAT) and Shahid Saeed (President PAT London chapter).
The political parties attending the moot were as follows:
PTI
Sahbzada Jahangir (Senior Advisor to Imran Khan)
Rana Ijaz Vice president (PTI East England Region along with delegation
PPP
Ch. Dilpazeer (Pakistan People Party Coordinator)
APML
Muhammad Afzal Siddiqui (President All Pakistan Muslim League)
Ch. Mohammad Altaf Shahid (President UK & Europe)
AML
Saleem Shaikh (President Awami Muslim League)
Javed Shaikh (General Secretary Awami Muslim League)
A'am Admi Party
Hillal Zaidi (chief co-ordinator Aam Admi Party)
Syed Abdul Raqeeb( A'am Admi Party UK)
PAT
National Executive Council of MQI (NEC) and Central Executive Council (CEC) of Pakistan Awami Tehreek UK
General Secretary of Pakistan Awami Tehreek Sajid Hussain Advocate warmly welcomed all the guests for taking time out to attend the seminar and expressing solidarity with PAT. Commenting on the Model Town carnage, he said we believe that it is state sponsored terrorism that was perpetrated on innocent and unarmed civilians in one of the most unfortunate days in Pakistan's history. He said that the incident was truly shocking for many reasons, more so the case because all the state institutions responsible for taking care of public grievances could not live up to the people's expectations as the victims of this horrible tragedy were subjected to further humiliation and state coercion after the incident.
Expressing his opinion on the incident, Lord Nazir Ahmad said that August is an important month in which Pakistani nation will see a great revolution. He announced that he is going to Pakistan to meet with Dr Tahir-ul-Qadri and then Imran Khan. He showed his dual nationality before the media and said he is more patriotic Pakistani than corrupt rulers of Pakistan.
Sahbzada Jahangir of Pakistan Tehreek-e-Insaaf said that PTI fully supported PAT on the issue of Model Town tragedy. He said that the Nawaz government lost moral footing and credibility to rule Pakistan after mass killing of 14 people. He said that he could see PAT and PTI cooperating with each other for bright future of Pakistan and spearheading a joint campaign for this purpose.
Muhammad Afzal Siddiqui said it is time to bring about change in Pakistan, adding that we fully support the vision of Dr Tahir-ul-Qadri
Saleem Shaikh of Awami Muslim League said it is time for the people of Pakistan to wake up from slumber. He said that Pakistani expatriate community is supportive of change and expects all political parties to work together to rid the country of civilian dictatorship. He said that AML chief Sheikh Rashid is trying his level best to bring all political parties particularly PTI and PAT on one platform.
Aam Admi Party leader Hillal Zaidi, who himself was shot by Punjab Police in Model Town Lahore massacre along with scores of people, said that it is time that we turned our back on corrupt rulers and initiated a struggle for establishment of real democracy in the country. He said that we should make a decision in this regard whether 'we are with them or against them'. He said that the people of Pakistan are politically more aware than before and determined to take on the elite that have usurped their rights.
The participants of the seminar also unanimously condemned the brutal Israeli attacks on Gaza.
Every one appreciated the struggle of Dr qadri for the common people of Pakistan. All speakers were unanimous in their condemnation of the government's barbaric act against the unarmed people of Pakistan.
Lord Nazir Ahmad, MP Lyn Brown and others registered their comments in the Condolence Book. Historic Fatwa authored by Dr Muhammad Tahir-ul-Qadri was presented to the guests. A human right report was issued to the public and for human rights organizations on the occasion.
The program was followed by Iftar dinner at the end.