Luton (UK) Mawlid Programme
Date: Saturday 15 May 2004
Venue: Jubilee Community Centre, Luton
Talawah: Rabiah Iqbal (aged 6)
Urdu speech: Alima Faiza Qadri
English Speech: Sister Khadijah Atkinson
Organizers: Respected Sisters: Tanveer, Kulsum, Sayida Bi Bi, Niaz, Mrs Shah, Nazir, Shahida, Fazal Noor,
Alhamdulillah by the blessings of Almighty Allah and His beloved Prophet (saw) approximately 200 women of both youth & older participants gathered to participate in this blessed programme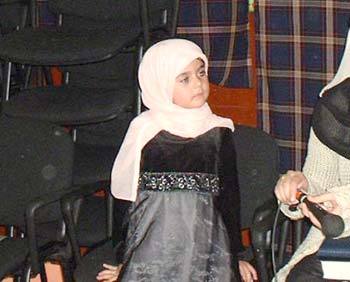 The programme commenced with talawah and the Qasida Burda Sharif (Poem of the Scarf). Sister Faiza addressed the gathering by highlighting the importance of sending Daroods on the Blessed Prophet (saw).
Sister Khadijah addressed the gathering on the topic of the struggles and life of the Holy Prophet (saw). She addressed the importance of looking at the situation of our Muslim brothers and sisters around the world, and relating it to our own. The English lecture also highlighted the importance of working for our Akhira (hereafter).
Sister Faiza addressed the gathering in Urdu and stressed the importance of love for our Beloved Prophet (saw). The gathering was urged to educate themselves and their children in Islamic Knowledge so they would have the foundation to protect themselves from the devil that waits at every corner. It was emphasised that Allah (swt) does not change the condition of a nation unless they change themselves.
Alhamdulillah, many sisters requested Minhaj ul Quran membership forms. Books by Shaykh-ul-Islam, Dr. Muhammad Tahir- ul- Qadri were sold. Free Minhaj-ul-Qur`an introductory packs were also distributed.
Food was distributed and melodious nasheeds were recited late into the evening.
We would like to thank all those who went to great efforts in preparing and organizing this special programme. We pray that Allah (swt) gives you the towfeeq (ability) to organise more blessed Mawlid programmes in the future Insha`Allah. Ameen.
Reported By : Alveena Salim