Dr Tahir-ul-Qadri asks US & West not to support corrupt system in Pakistan
Says individuals have thrived at the cost of institutions that have been rendered dysfunctional
Those calling each other corrupt during election campaigns strike deals to protect each other after coming into power
Corruption eating into vitals of state and society and is responsible for violation of fundamental rights
Starts membership and organization drive in the US
Advises expatriate community to form 'Union of Overseas Pakistanis' to protect their rights.
Promises protection for women, minorities and the poor
Says local government system will be lynchpin of governance in Pakistan
Addresses the PAT Convention in New York, which is attended by overseas Pakistanis in large number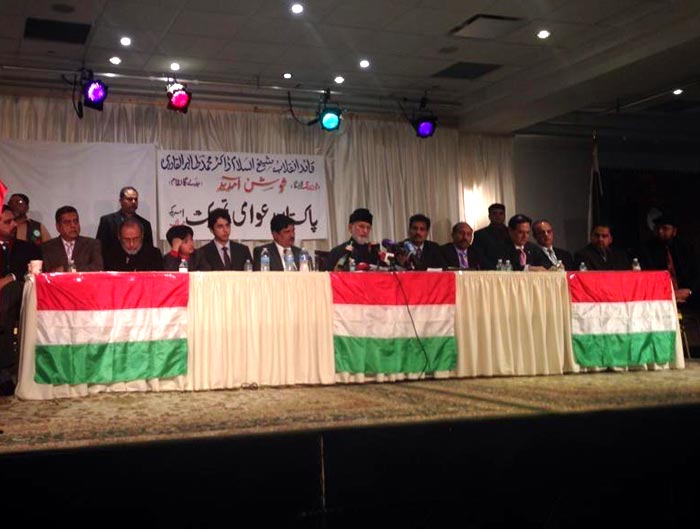 Addressing the members of Pakistani expatriate community in New York on November 07, PAT Chief Dr Muhammad Tahir-ul-Qadri has asked the United States not to extend its support to the corrupt system in Pakistan. He said that corruption of individuals has destroyed institutions, adding that those claiming to bring back looted money of one another parked in overseas banks during their election campaign end up striking deals after they get into power. He said that fundamental rights of Pakistan's citizens are not secure due to massive corruption and the Model Town tragedy is the worst example of state terrorism.
Throwing light on the objective of PAT's struggle, Dr Tahir-ul-Qadri said that our movement is for provision of social, economic, political and legal justice. He vowed to protect all vulnerable sections of society including women and minorities. He said that as long as the federation and provincial governments continue to have their firm grip on powers, the problems of the people at the local level would keep on multiplying. He said that the government is hesitant to hold local bodies elections and cooking up every kind of excuse to delay them because it knows full well that following new census, fresh delimitation and new voter lists, it is not the local government election but national election that will have to be conducted as it is overriding demand of the masses. He stated that local government elections were not held for last seven years but nobody was bothered about it. He said that if people's confidence is to be regained, then powers will have to be distributed at district, Tehsil and union council levels.
Dr Tahir-ul-Qadri said that Article 140A and other Articles of the Constitution that deal with local bodies elections have remained suspended for last seven years, asking why does Article 6 of the Constitution not come into effect here? He said that those who made speeches in Parliament against us during 70-day old sit-in have also started to realize the mistake they made by extending unstinted support to the government.
The PAT Convention was attended by a large number of Pakistanis based in the US. At the end of the Convention, Dr Qadri formally launched membership and reorganization campaign. He suggested to the overseas Pakistanis to establish a unanimous organization consisting of all representative segments by the name of 'Union of Overseas Pakistanis' for protection of their rights.
Sharing the details of PAT's ten-point pro-people, revolutionary agenda, Dr Tahir-ul-Qadri said that we would give protection and honor to the overseas Pakistanis, adding that we will also give them right to vote. He said that the PAT's government will ensure protection of their life and property in Pakistan. He said that new provinces will be created out of divisions and Supreme Court benches would be established at divisional levels to provide quick, instant and affordable justice to people at their door-steps.
He said that development funds will be spent through union councilors and the role of members of Parliament (MPs) will be confined to legislation and policy-making. He said that around 90,000 local government institutions are working in 50 states of the US, adding that these local bodies are efficiently managing the affairs related to taxation, prisons, law and order, education, health, and infrastructure development. He said that our request to the western world is that they should not support corrupt system in Pakistan.
Dr Tahir-ul-Qadri said that corruption is eating into vitals of state and society. He said that former Chairman of National Accountability Bureau (NAB) Admiral (r ) Fasih Bokhari revealed that quantum of monthly and annual corruption committed in Pakistan is Rs. 360 billion and Rs. 4320 billion respectively. He said that rulers are busy in loot and plunder of state resources in the name of power projects. He said that the cost of Nandipur Power Project registered a massive escalation from Rs. 57 billion to Rs. 84 billion but it has not started power generation to the national grid so far. He said that it is in the same way that people are being taken for a ride on 969-MW Neelum-Jhelum Hydropower Project.
The PAT chief said that the biggest solar power project of 500 MW is located in the US, whereas the Pakistani rulers have outsmarted everyone by claiming to install 900-MW solar projects whose feasibility study has been got prepared from a telecom company. He said that these power projects will stay on for many years thereby lining the pockets of the rulers while the people will continue to suffer darkness in their lives.
Throwing light on the salient features of PAT manifesto, Dr Tahir-ul-Qadri said that special policy steps have been prescribed for the less advantageous and vulnerable sections of society. He said that we want such a system of democracy where people are active shareholder in every kind of administrative unit, resources and powers are devolved to the grass-roots and socio-economic justice delivered to the common man. He said that the PAT government would not leave any homeless without a shelter, adding that educational and health facilities will be provided to all for free at state expense without any discrimination. He said that the sorry state of affairs prevailing in Pakistan is such that if someone is grievously hurt at the hands of powerful people, he cannot get his grievance redressed and wrong righted by any institution. He said that we have launched a decisive struggle against corrupt system. He said that had we been part of Parliament, we would not have kept mum on violation of human rights in the country.
Part - I

Part - II

Part - III (Question & Answer Session)