UK: MWL (Nelson) holds instructive session about Hajj
On the 3rd of October 2014, Jamia Masjid Minhaj-ul-Quran, Nelson, held an annual Hajj Mehfil for young students who attend the education center. The mehfil was a great success, with students and teachers both enjoying the event. The proceedings began with recitation of the Holy Quran by Halimah Hussain, who beautifully recited Surah Ikhlas. This was followed by praises on the Holy Prophet (saw) in the form of a naat sharif, which was recited by the playgroup girls, Anam Ahmed, Salihah Anjum and Irtikah Mehmood.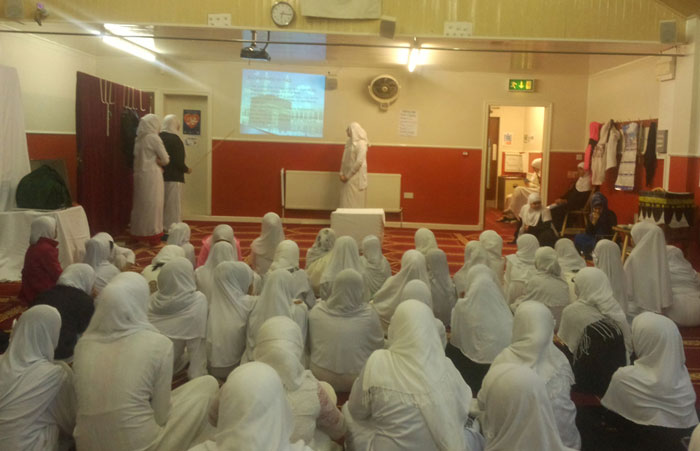 There was also a role playing session, which was acted by the senior students. The role play was a very good and interactive way to get the true message of Islam out to the students. They actors taught about the benefits and virtues of Hajj and also showed that good character and habits were better than the bad worldly attractions we have today. The theme of Hajj continued to be emphasized throughout the mehfil, with a presentation explaining how to perform Hajj. All the key stages and conditions were explained very well by students who had prepared the presentation. The power point presentation was delivered by Jasmine Ahmed, Nimra Khan, and Hasana Mirza.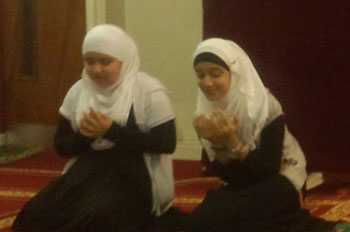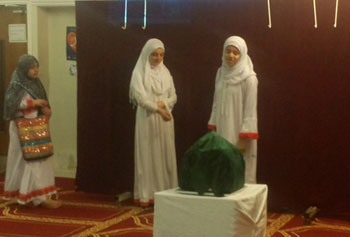 In order to assess the learning of the students, all the classes took turns to re-enact the key stages of Hajj by visiting Madina Sharif, Mina, muzdalifah, Arafaat and also by stoning the Shaytan's and performing tawaaf around a model of the Kabah, and the laps between Safah and Marwah. They also re-enacted drinking Zam Zam water at the end of the role play. The mehfil concluded with salat-ul-Asar and Dua. All the students were given refreshments at the end of the programme.
Reported by: Tahira Basharat & Naushaza Fiaz