Speakers at UK Parliament House ceremony call for justice for Model Town victims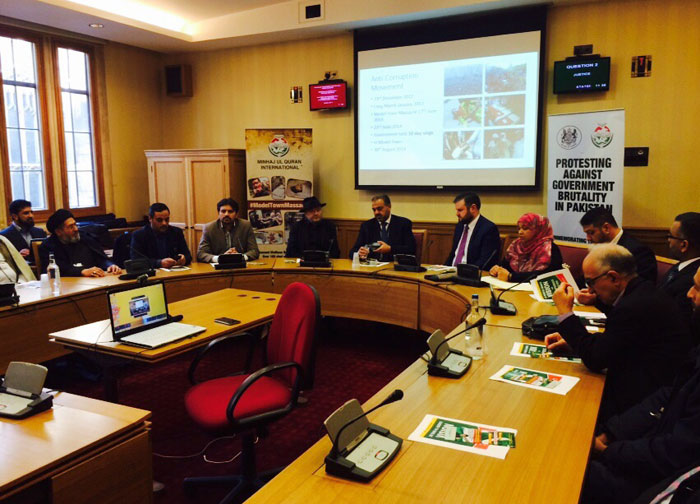 British member of Parliament George Galloway has said that Pakistan is passing through difficult time. He said that the whole nation would have to forge unity in their ranks to combat the challenges. He said that terrorism irrespective of the whether it is perpetrated at state level or by some non-state actors, has no belief or values and religion. He said that the international powers need to resolve basic problems that are responsible for spread of terrorism.
The British MP expressed these views while addressing a ceremony organized by MQI UK in Parliament House London on the completion of six months of Model Town tragedy. Lord Nazir Ahmad, Andrew Stephenson, Ashiq Hussain Naqvi, Catherine Baker of Human Rights, Muhammad Naveed Qadri, Syed Ali Abbas Bokhari, Sibat Ali and others also spoke on the occasion.
George Galloway said that if the oppressed do not get justice for the wrongs inflicted on them in any country, lawlessness is sure increase in such societies. He demanded that the government of Pakistan should bring those responsible for Model Town tragedy to justice so that the repeat of such horrible crime does not take place at the state level.
In his talk, Lord Nazir Ahmad said that he saw the whole Model Town tragedy on his TV screen, whereas the rulers living in the neighbourhood remained unaware of the incident. He said that this is glaring proof of the fact that our rulers are least concerned about protection of life, honour and property of their citizens. He said that the heirs of 14 martyrs and about 100 injured are still seeking justice and the PAT chief Dr Tahir-ul-Qadri had to lead a Long March and stage sit-in for justice but the law failed to apprehend those who flagrantly indulged in violation of law and perpetrated state terrorism.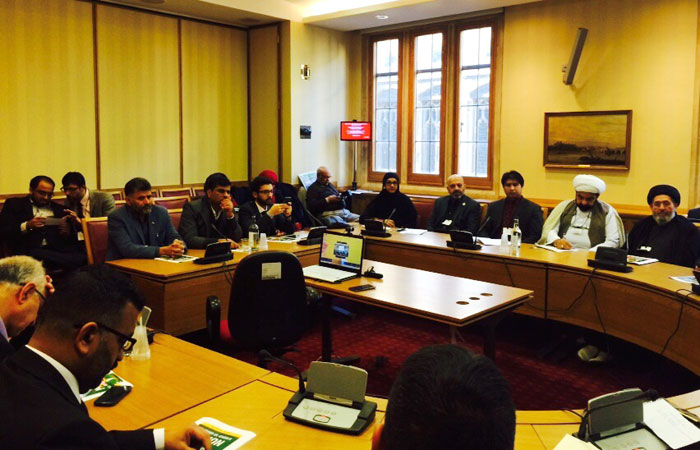 Lord Nazir further said that Pakistan's current system has failed to provide basic rights to the people as they continue to yearn for justice, education and health opportunities, and employment. He said that there are two separate systems and laws for the poor and the rich in the country. He said that unless the country's system is overhauled and changed, the poor will continue to suffer and those managing to stay alive will be targeted by the state institutions. He said that the honorable Supreme Court should have taken notice of Model Town tragedy, adding that judiciary has a major role to play in provision of justice to the Pakistani nation.
MP Andrew Stephenson said that he was greatly saddened to know about the details of the Model Town tragedy. He said that it was horrifying to learn that Punjab police kept on spraying bullets on the innocent men, women and the elderly. He said that he would raise this issue at a high level through British Foreign and Commonwealth Office so that those responsible for it should be meted out punishment in accordance with law.
Allama Musharraf Naqvi, Muhammad Ali Chohan, and Dawood Hussain Mash'hadi also condemned the government for not providing justice to the victims of Model Town tragedy. They demanded the constitution of Joint Investigation Team consisting of officers of impeccable integrity to probe the incident and bring the facts to the knowledge of the nation. They said that such a JIT should only be set up after consulting MQI.
In his vote of thanks, Dawood Hussain Mash'hadi thanked all guests for taking time out to attend the event. He informed that the conspiracies continue to be made to save the accused of Model Town tragedy from punishment. He said that unless the justice is provided to the bereaved families, each and every worker of MQI and PAT will continue to raise voice for justice. The participants of the seminar condemned the brutal Peshawar tragedy on the occasion and demanded of the government to take out those who planned, implemented and abetted this gory attack. They said that the distinction between good and bad Taliban should be eliminated and all terrorists should be crushed with full state power.