UK: MWL (Birmingham) holds Mawlid ceremony
On the 27th December 2014, the Minhaj-ul-Quran Women League (Birmingham) organised a Mawlid at the Naseby Road Mosque. The prayer hall was decorated beautifully with lights. The Mehfil had a very warm welcoming atmosphere. The event was hosted by Sister Rukhsana Alam who invited Aaminah Ishtiaq to begin with a recitation from the Quran.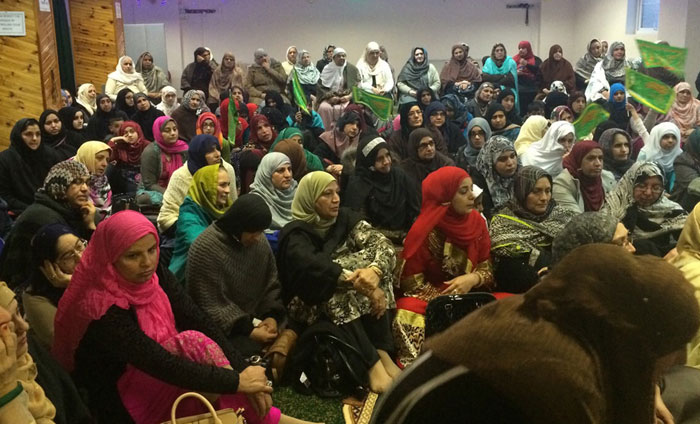 Sister Rukhsana Parveen (President of MWL Birmingham) introduced a video clip of Shaykh-ul-Islam Dr Muhammad Tahir-ul-Qadri's talk, followed by a question and answer session in which everyone took part and were rewarded with gifts.  Sister Rabia Khanum (Birmingham MWL Membership Secretary) invited the audience to become members of Minhaj-ul-Quran. Many took interest and joined. Also, a book stall was set up by the Dawah team and they also distributed free CDs of Shaykh-ul-Islam's lectures.
English speech was delivered by Sister Halima Sadia which was aimed at the youth sisters. Group of young sisters took part and recited Nasheeds in angelic voices. A number of ladies participated in reciting Naats including Sister Rukhsana Iqbal (Halqa Durood co-coordinator West Midlands). Main speaker was Sister Asma Parwar (MWL UK Advisory Committee) from Manchester who delivered a talk, Naats and an emotional Dua and Salaam on The Prophet Muhammad (SAW) that everyone young and old enjoyed. During the event sweets were distributed. The MWL Birmingham team had food stalls set up which the attendees all enjoyed.
Report by: Shaheen Akhter