Mawlid-ul-Nabi (SAW) held at Hodge Hill School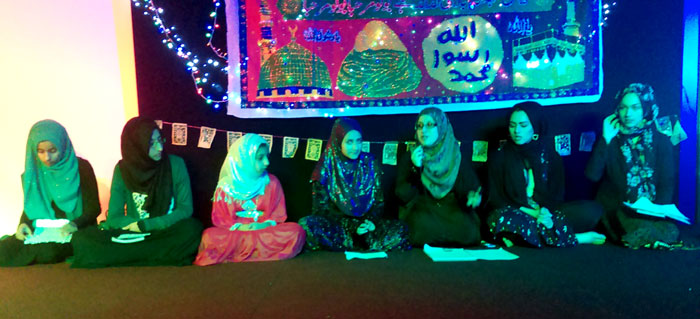 A Mawlid-ul-Nabi programme (SAW) was organised by Hodge Hill School on the 27th of February 2015. , who kindly requested Sister Rukhsana Parveen (MWL President of Birmingham) to organise the second half of the Mawlid-ul-Nabi (SAW).
Mrs. Brown welcomed everyone and invited Farah Malik to host the first half of the programme and called their own girls to recite Surah fatiha and read nasheeds. Soon after she handed the stage over to Minhaj-ul-Quran, Sister Maaria Ashraf hosted the programme and started by recitation of the Quran and read durood shareef beautifully. Sister Maaria Ashraf requested turn by turn Minhaj-ul-Quran girls to recite naats and nasheeds.
Sisters Aaminah Khatoon, Ummi Habiba Majid, and Maaria Qibtiya Majid recited a beautiful nasheed together. Sister Fiza Andalib recited a naat. Aaminah Ishtiaq had the honour of presenting a naat with a duff. Faryaal Aziz, and Sabaat Aziz recited naats on the occasion.
Maaria Ashraf delivered a fantastic speech in English on importance of sending greeting and salutations on the holy Prophet (SAW). The programmed ended with prayers for peace. Gifts were handed out to Minhaj-ul-Quran girls for hosting a lovely programme and vice versa. Sister Rukhsana Parveen (MWL President of Birmingham) handed flowers to the teacher and gifts to teacher Farah Malik.