Monthly spiritual gathered held by MQI Walsall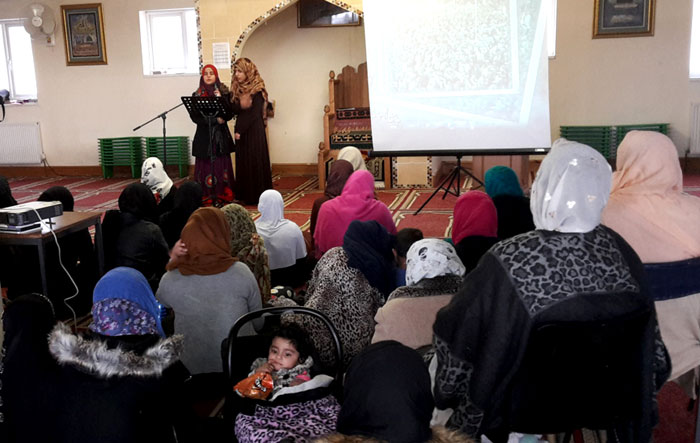 Monthly 'Gyarvi Shareef' spiritual programme was held at MQI Walsall on the 1st of March 2015 under the banner of Women League Walsall. The programme started with the beautiful recitation of verses from the Glorious Quran by Sister Tahreem Fazal, a member of Youth League Sisters.
Our Beautiful little Minhaji sisters, Khadija-tul-Qubra and Fatima- tul-Zahra praised Allah (SWT) with Hamd. This was followed by sending of greetings and praises on our beloved Prophet (SAW) in the form of Naats recited by sisters Lubna Hashmi, Rani Hussain, Sadia Bibi and sisters from the audience also joined the Naat recitation.
Sister Aleena Munir beautifully recited Surah Al Fatiha before she started her talk which was in English. Her talk was on Auliya Allah (Friends of Allah). She informed the audience on how we should follow in the light of the 'Friends of Allah' and there's no better way of loving Allah than looking through the lives of Auliya Allah. Aleena also gave examples from Hadiths and mentioned all her findings were through the lectures of Dr Muhammad Tahir-ul-Qadri.
Sisters Aaimen and Tahreem Fazal recited a heart touching Manqabat on Hazoor Ghous-e-Azam "Meeran Waliyon Ke Imam". After which Sister Zohra Fazal (President) explained the importance of educating ourselves not only by reading books and attending talks but by listening to lectures. She mentioned a lecture delivered by Shaykh-ul-Islam which was played on the projector. All the attendees listened to the lecture very attentively. The title of the lecture was 'Rights of Parents'.
Sister Lubna Hashmi informed sisters how hard Shaykh-Ul-Islam have worked to provide literature in the form of books, CDs and DVDs for us to familiarise ourselves on all aspects of Islam. She also urged all attendees to visit Minhaj Dawah Project Stall at the end of the spiritual. She briefly updated the participants on our Minhaj Welfare projects and how the construction of the mosque is coming along.
Salaam was led by Sister Ranii Hussain. Sister Shehnaz preformed Dua to conclude the programme.Packed food was given out to all attendees.