Newly elected executive body of PAT (Spain) inaugurated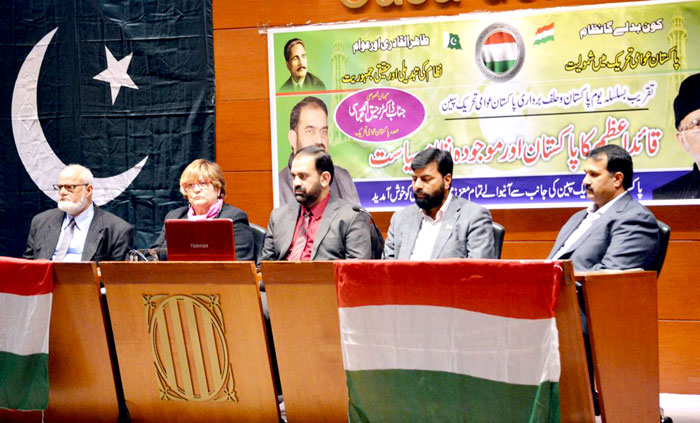 Speech of Dr Raheeq Abbasi in PAT Oath Ceremony in Barcelona Spain 2015: https://t.co/9Nwm5fYqUb

— Dr. Raheeq Abbasi (@RaheeqAbbasi) March 18, 2015
In the wake of PAT chief Dr Tahir-ul-Qadri's decision to activate overseas chapters of PAT, a prestigious ceremony of oath-taking was held under the banner of PAT (Spain) in Barcelona on March 14. PAT President Dr Raheeq Ahmad Abbasi was the guest of honour on the occasion. Naveed Ahmad Andalusi conducted the proceedings of the programme. The proceedings of the event got underway with the recitation of the Holy Quran followed by Naat. Children presented a performance, which won applause from the audience.
Addressing the ceremony, Dr Raheeq Ahmad Abbasi said that the ruling elite have broken all past records of corruption and malpractices. He said that the country is being pushed into blind alley with no light at the end of tunnel. He said that the so-called ministers and advisers are busy in illegal practices and justice has become non-existent in the country. He said that following Model Town tragedy, even the blind were not spared from police high-handedness in Lahore. He said that 70-day old sit-in staged by PAT in Islamabad created awareness among the masses about their rights and there are instances when the government has been compelled to retreat in the face of increasing public demand for their rights.
The PAT President said that corrupt ruling elite and Pakistan cannot go together and there will soon be the government of the poor in the country, which will ensure equality in provision of justice and standards of life for the citizens.
Expressing his views in the seminar, the President of PAT (Spain) Muhammad Iqbal Chaudhry said that the Quaid-e-Azam gifted 'Pakistan' to the Muslims but the corrupt ruling elite have rendered it hollow through mega corruption and bad governance. He said that the country has lost its sovereignty due to this predator class. He said that it is need of the hour that we forge unity in our ranks to rid the country of corruption and bad governance. He asked the masses to join PAT to achieve this destination. Chaudhry Muhammad Iqbal thanked PAT President Dr Raheeq Abbasi for taking time out to attend the seminar.
Hasnat Mustafa, President of Minhaj Youth League (Spain), congratulated the newly elected executive body of PAT (Spain). Faisal Ashfaq, a local Pakistani student, was introduced to the audience on the occasion. It is pertinent to mention here that he is the first Pakistani who has won elections of an educational department of city government of Barcelona. The participants congratulated him on this marvelous achievement.

Dr Raheeq Ahmad Abbasi administered oath to the newly elected executive body members. The oath-taking ceremony got special media coverage for which PAT (Spain) would like to thank Nadeem Butt of ARY, Jang, Geo, Channel Five, Sama TV, Dr Qamar Sultan of Daily Dost, Javed Mughal, chief editor of Hum Watan Spain, Arshad Nazir Sahil, Mumtaz Munir, and others.
Reported by: Muhammad Yousuf Ch, Naveed Ahmad Andalusi