MWL (London) holds Mawlid-un-Nabi (SAW) programme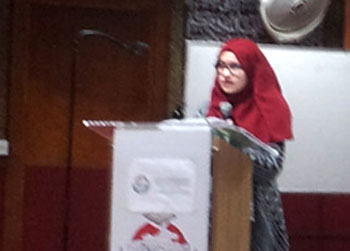 On the 11th of January 2015, Minhaj-ul-Quran Women League London organized a magnificent Mawlid-un-Nabi (SAW) programme in order to commemorate the Blessed Birth of Prophet Muhammed (SAW). The Urdu portion of the programme was hosted by Mrs Zarida Shafique and the English section by Youth League Sister Fozia Shabbir.
The programme commenced with the beautiful recitation of the Qur'any Hafiza Maimuna Bukhari followed by praises of the Prophet (SAW) by Sister Tay-yibah Shabbir, who in her magnificent voice recited heart warming praises. It was followed by Hafiza Maryam Noor's reflective account of the Prophet's (SAW) mercy and compassion. The gathering was addressed with the remembrance of our Prophet (SAW) with a poem read by Haleema Ansar. Sister Fozia summarised the purpose of the gathering, and explained the love of Muslims towards the Prophet (SAW). She gave examples of how we can follow his blessed character, and his actions for success in life.
The 2nd part of programme commenced with introduction by Sister Zarida Shafique. Naats and Nasheeds were recited by Sisters with the Daff. Young students from Minhaj School of Science and Rhythm of the Muslimah delivered enlightening speeches creating an atmosphere of joy in remembrance of the Prophet (SAW). Sister Jannat-ul-Firdous Nasir and Sister Nuzhat Pervaiz engaged the hearts of the audience in praises of the Prophet (SAW). Sister Bismah Ali delivered a short talk explaining the Prophet (SAW) is a Mercy not only for the Muslims but for the entire creation. She showed multiple amounts of Mercy to ants, women, infants, ignorant without any discrimination. Sister Khadija Sarfaraz reminded the audience of how The Prophet (SAW) was merciful towards all especially the non-Muslims with stories narrated by the Sahabah and Hadiths.
The main speaker of the event, Sister Asma Murtaza, delivered a speech in Urdu she spoke to the audience about how Islam is peace, love and harmony. She said that the Prophet (SAW) was a incarnation of mercy, compassion, benevolence, clemency, and forgiveness. She explained how in the last few decades communities have been torn apart as Islam is misrepresented and misunderstood. She talked about all the ideals that we should try to adopt to get rid of our problems. The program ended with Zikr and Dua. Food and fruit was distributed to sisters.