MWL (Midland Zones) hosts workshop for women empowerment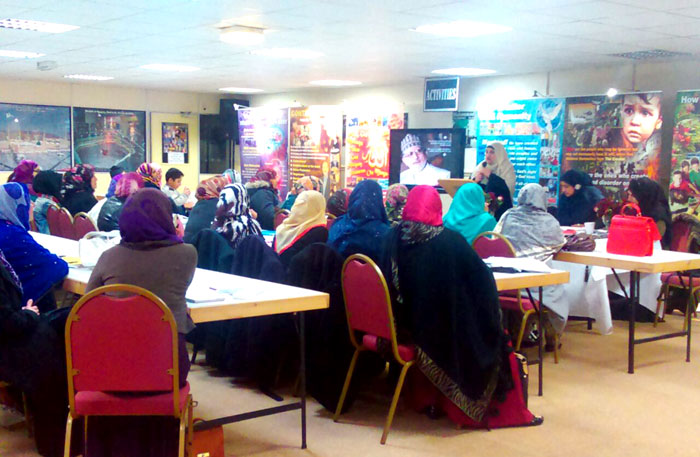 Midlands Zone Training Workshop was held at The REX Centre Birmingham on Sunday, 22nd February 2015. This training workshop was organised by the Midlands Zone President Sister Gulshan-e-Fatima, Midland Zone General Secretary Sister Rosina Nawaz and Women League UK General Secretary Sister Mussarat Hussain. Minhaj Women League Allum Rock hosted this event. The main aims and objectives of this training workshop were to reflect upon the structure and roles and responsibilities of Minhaj Women League.
The programme commenced with recitation from the Glorious Quran, beautifully recited by Sister Imra, followed by the praising of our Beloved Prophet (SAW) in the form a Naat performed by Sister Kauser.
Sister Mussarat Hussain who has been a dedicated member of Minhaj ul Quran Women League and presently holding the position of General Secretary UK informed the workers on how to work successfully as part of a team ensuring each member participates in the organizational activities. She highlighted the importance of sparing time for purposeful activities aimed spreading message of MWL. This entails respecting each other through a loving and caring manner, she added. She further went on to explain the Women League structure in detail.
Midland Zone General Secretary Sister Rosina Nawaz briefly talked about the Working Plan and targets for Minhaj ul Quran Women League UK 2015. She asked all chapters to discuss their annual targets through the break. This was followed by a short break for Zuhur Salah and Lunch. On return all chapters put forward their annual (2015) plans for membership, Halqa-e-Durood, Irfan-ul-Quran Study Circles, Sale of Books, Sponsorship of Orphans, and Our Family Sponsorships. These targets will be reviewed at the end of the year.
The next session consisted of presentations. The workers from each local chapter were appointed prior to the training workshop and asked to prepare a 10 minute presentation on roles and responsibilities within Women League and share their ideas and experiences of how they would implement their plans in their communities.
The atmosphere of this training workshop was very pleasant. The women workers wanted to learn more and share their expertise in their fields, but time is of the essence and everyone learnt skills on how to become successful through time management.
Ustazah Fatima Mash'hadi was unable to attend this programme in person. She however attended the proceedings via Skype, through which she expressed her overwhelming happiness and congratulated the entire Midlands Zone on their efforts. She concluded the programme with a very emotional Dua praising each and every worker in the Midlands and praying for their success in the future.
Midland Zone Training Workshop came to an end with a cake cutting ceremony organised by the hosts Alum Rock chapter to celebrate 64 successful years of our beloved Shaykh ul Islam Dr Muhammad Tahir ul Qadri for giving us knowledge, love and accepting us as part of this Mustafvi Mission. Dua was made for him to have a long, healthy and successful life.
Reported by: Seema Shahzad (Media Secretary Walsall)