Quaid Day celebrated by MWL (Walsall)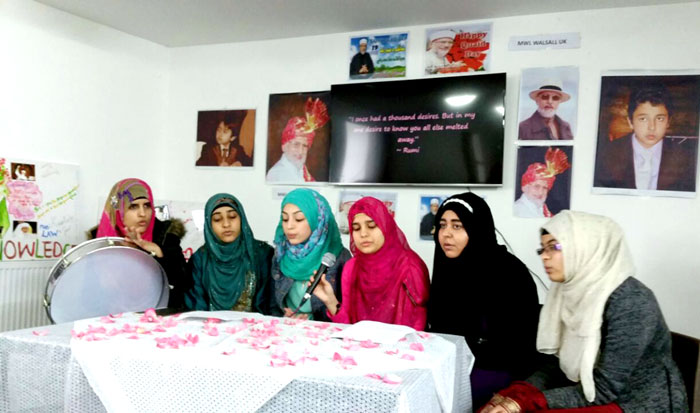 Quaid Day Celebration is held annually on the 19th February to celebrate our Beloved Quaid's birthday. Every year all members are requested to fast (if possible), to offer two rakat optional prayers early morning, recite Durood Sharif 100 times, give charity and make special Dua for Shaykh-ul-Islam's long and healthy life.
Minhaj Women League and MYL-S organised a special event at Minhaj ul Quran Idara Walsall on this auspicious occasion of Quaid Day. The programme started with a beautiful Tilawaat from the Glorious Quran recited by Tehreem (MYLS). The spirits of the members who attended were lifted with graceful Hamds and Naats performed by Minhaj Youth League Sisters Walsall.
This was followed by an indulging English talk by Sister Yasmin Hussain (MYLS). Sister Yasmin spoke about the status of Shaykh ul Islam Dr Mohammad Tahir-ul-Qadri. MYL Sisters enlightened all members with the reading of beautiful poems.
Sister Zohra Fazal and Sister Mussarat Hussain spoke on the attributes of Dr Muhammad Tahir- ul-Qadri and how all members have benefited from this Mustavi Mission. They also spoke on the contributions of Minhaj-ul-Quran International towards the cause of peace and interfaith dialogue and their own personal experiences after joining this great organization.
New Members were presented with their membership certificates. A short clip was played on the life story of Shaykh ul Islam followed by a Q&A session led by Sister Aleena Munir (MYLS). Goody bags were given out for each correct answer. After the Q&A session a beautiful Dua by Sister Mussarat Hussain was carried out focusing on the long life and health of Dr Muhammad Tahir-ul-Qadri. The event concluded with a cake cutting ceremony and food was served.
MQI is based on a comprehensive and practical ideology. It aims to promotion of peace, interfaith harmony, human rights and brotherhood.
Finally the cake was cut by local chapters of Greater Manchester, and beyond, food was served and enjoyed by all. All the participants then had a chance to meet each other and build a rapport and discuss matters of mutual interest. It was a grand event which was attended by MQI and PAT members.
Reported by: Seema Shahzad (Media Secretary Walsall)